The Board of Regents is pleased to present a KUDOS award to Annette Wetzel, Special Events Coordinator and Visitors Center Director at the University of Nebraska-Lincoln.
Annette Wetzel is a skilled and accomplished event planner responsible for coordination and leadership of some of the university's major events. She leads the planning and operations of dozens of high-profile events including May, August and December commencements on top of the exemplary work for specialized events throughout the year.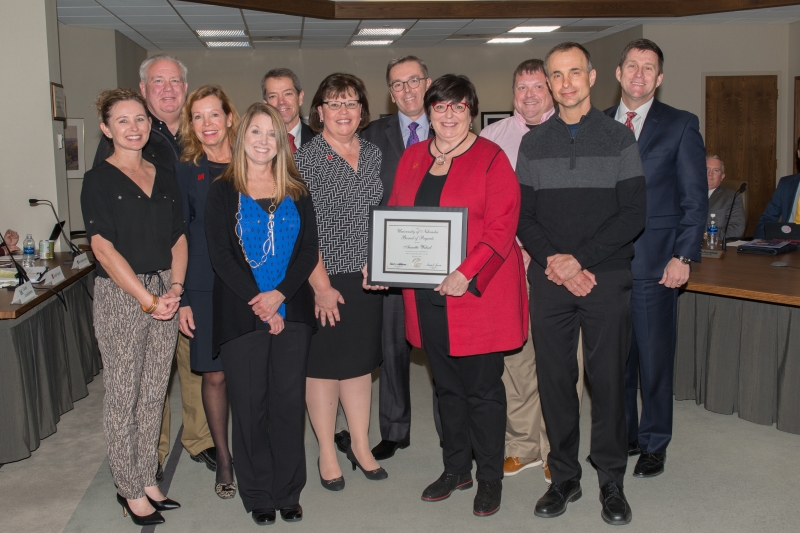 As an example, Annette led the planning for Chancellor Ronnie Green's installation, held in April 2017. Installations are prestigious, with invitees from around the world, and personal, reflecting the character of the chancellor being installed.
Annette displayed a great deal of creativity, tenacity and professionalism in leading the planning and execution of this highly successful event. She worked closely with a strong team to ensure that the occasion was flawless, going down in history as one of the University of Nebraska-Lincoln's most memorable moments. This is a common outcome for this very talented employee - making her a worthy candidate for this distinct honor.
Joining Annette today is her brother, Terry Wetzel, and the following friends and co-workers: Craig Pleskac, Melanie Nunez, Kim Rauscher, Meg Lauerman, Corrie Svehla, and Kellie Wesslund.
Please join me in thanking Annette for her dedication to the University of Nebraska-Lincoln.