On behalf of the Board of Regents, I am pleased to present a KUDOS award to Ann Kruger of UNMC. Ann is a staff physical therapist and, as one nominator said, an "unsung hero" within the physical therapy department at UNMC's Munroe-Meyer Institute.
Ann is the "go-to" person for advice regarding seating, positioning and mobility-type equipment for individuals with intellectual and developmental disabilities.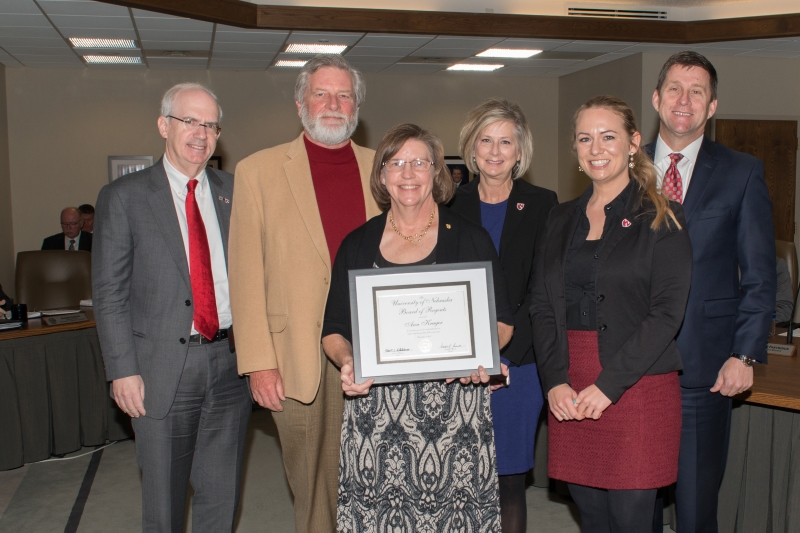 Colleague Brad Corr said: "Ann Kruger never ceases to amaze me with her relentless pursuit of excellence in the lives of our patients…there is no fiercer advocate for individuals with intellectual and developmental disabilities than Ann."
Supervisor Sandy Willett agrees, saying Ann's contributions extend beyond MMI to JP Lord School, an Omaha Public School program for children and young adults with physical and intellectual disabilities. "Ann serves these children with a sense of commitment and enthusiasm that is unparalleled," Willett said.
A certified assistive technology practitioner, Ann also directs the Creighton University physical therapy students in an annual "wheelchair wash" for JP Lord School. This serves a dual purpose: a practical cleaning of chairs, as well as an educational purpose as it trains prospective physical therapy students who care for individuals with development disabilities.
At MMI, Ann developed a prototype for power mobility for children with limited mobility and furthered this passion with the national GoBabyGo! Program. In collaboration with UNL and UNO engineering students, MMI provides modified ride-on cars for kids with developmental disabilities.
Today, Ann Kruger is accompanied by her husband, Eric, and her supervisor, Sandra Willett. Please join me in thanking Ann for her tireless advocacy for children and families and her many contributions to the University of Nebraska Medical Center.