The Board of Regents is pleased to recognize Amy Jacobson, Senior Designer in UNK's Department of Communications & Marketing. Amy began her UNK career in 2009 as a Student Designer. With her Bachelor of Fine Arts in Visual Communication and Design, she was hired as an Associate Designer, being promoted in 2014 to Senior Designer.
Amy oversees the visual and creative aspects of printed materials ensuring University standards and expectations are met. Her work involves design layout, collaboration with campus clients, and super-vision of print production. "With a friendly, calm demeanor and quiet confidence, she consistently rises to the occasion while working on tight deadlines and complicated projects," says Kyle Means, Director of Marketing.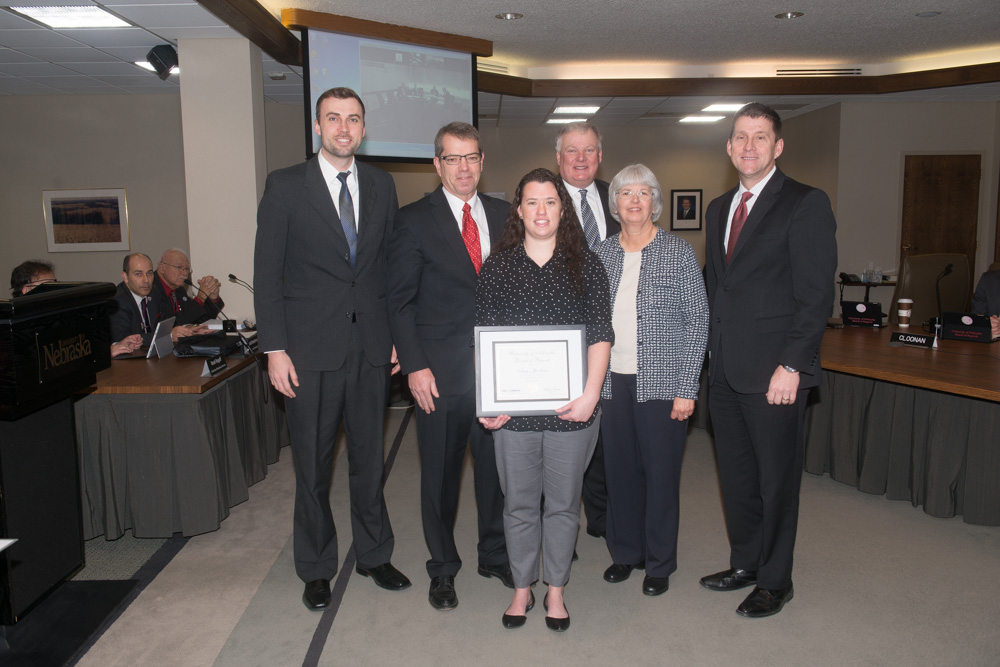 Amy's contributions include work on; the 'New Frontiers' magazine, commencement programs, special events visuals, recruitment and Loper Athletics materials, banners for Ron and Carol Cope Stadium, and the "We Are Difference Makers" brand campaign while also being involved with students in UNK's Department of Art and Design.
Amy is a Staff Sergeant in the Nebraska Army National Guard, serving as a broadcast journalist in the 111th Public Affairs Detachment in Lincoln. As her term of service ends this year, she is grateful for the many opportunities she's had and for the support the University has provided during her military career.
For outstanding work, talent, creative design, and for leadership by example, we take pride in recognizing Amy Jacobson. – Amy is accompanied today by her mother, Jean Jacobson, of Kearney.