On behalf of the Board of Regents, I am pleased to present a KUDOS Award to William Stoutamire, director of UNK's G.W. Frank Museum of History and Culture. He is a native of Tallahassee and received his Ph.D. in public history from Arizona State University.
Known for years simply as "the Frank House," the home was built in 1886 as a private residence. It is listed on the National Register of Historic Places, and was recently renamed to reflect its expanding relevancy as a historic treasure. As museum director, Will is responsible for overseeing the reinvention of the Frank Museum, including a new mission and vision, expanded hours, new programming and exhibits, and the restoration of the interior to reflect different eras in Kearney's history. He also oversees the museum's role as a humanities laboratory that serves UNK's educational mission. Each semester, 20-30 students engage in interdisciplinary projects from historic preservation and documentary editing to interactive historical map design. Their work benefits the museum as well as their educational portfolios.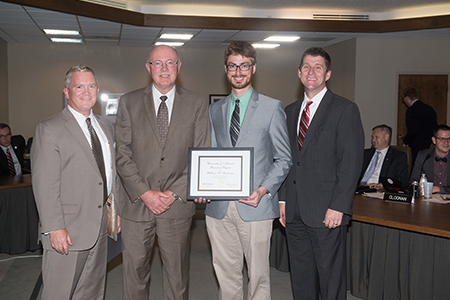 In addition, Will's duties encompass fundraising and marketing; research and exhibit design; community outreach and caring for the museum's collections; and he serves as a graduate lecturer in UNK's Department of History. Under Will's direction, the museum's visitation increased by more than a 250% in his first year alone and in 2015 hosted the Nebraska Chautauqua sponsored by Humanities Nebraska.
Will's supervisor and close colleague, Audrey Kauders, director of the Museum of Nebraska Art, applauds his ability, knowledge and collegial nature. "In many ways, we are creating a new model: two museums on the same campus, under the same administration, in a symbiotic relationship of equals," she says. Today we take pride in recognizing Dr. William Stoutamire for his talents and for setting a standard of true excellence.