The Board of Regents is pleased to present a KUDOS Award to Mike Connolly, Director of the nationally recognized Office of Military and Veteran Services at the University of Nebraska at Omaha.
Mike oversees a team of five staff members and more than a dozen student workers. Under Mike's direction, the team has furthered UNO's three strategic goals: being student centered, academically excellent, and engaged with the community. The group's achievements in these areas were instrumental in earning UNO the top spot out of 125 other 4-year institutions in Military Times' Best for Vets rankings in back-to-back years.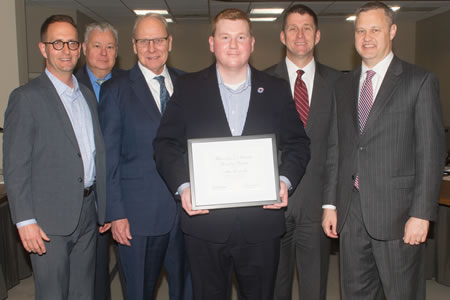 Let's begin with student centeredness. Mike's office works with 1,600 military-affiliated students to ensure they stay on path to graduate. About 500 calls are made each week to check in on students. Mike says interacting with students is his favorite part of his job: "Some of the students we work with have a lot on their plates, and I enjoy seeing what happens when things work out well for those students."
Next, let's talk about academic excellence. About two years ago, Mike's team surveyed all military, veteran and dependent students at UNO. The survey revealed some students struggled in specific math classes. To address this concern, the office began offering a tutoring program. Pass rates have since increased by 25 percent.
Finally, community engagement. Recently, Mike created a proposal for UNO to partner with Omaha-based companies on hiring service men and women in technology-related fields. His team launched a new Learning Community known as Vets in Tech. Three companies have joined Vets in Tech: Union Pacific, Northrop Grumman, and First Data.
Please join me in thanking Mike for his commitment to UNO.