On behalf of the Board of Regents, I am pleased to present a KUDOS Award to Mary Morris, administrative assistant for the department of biostatistics in the UNMC College of Public Health. In addition to her everyday duties, Mary also provides crucial support to the Center for Collaboration on Research Design and Analysis, and for the COPH office of the dean.
Jane Meza, Ph.D., noted that while she is biostatistics chair, it is Mary who makes the department run. Mary is the administrative assistant for 14 faculty and staff, while also working with graduate students and helping tackle larger projects – including college strategic planning, re-accreditation workgroups and administrative coordination of the search for a new dean.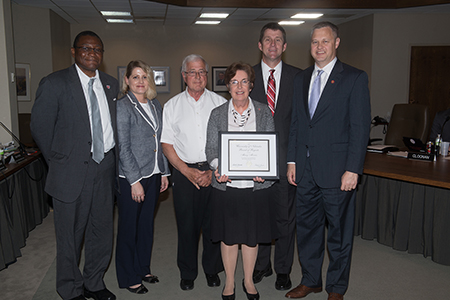 Mary also has taken on a leadership position as co-chair of the COPH Wellness Council. As such, she has put a great deal of effort into making its annual wellness fair a tremendous success, on campus and beyond. She handles an incredible workload with grace, professionalism and infectious good cheer.
Today, Mary is accompanied by her husband, Bill Morris, and her supervisor and Dr. Jane Meza. Please join me in thanking Mary Morris for her contributions to the University of Nebraska Medical Center.