On behalf of the Board of Regents, I am pleased to present a KUDOS award to Joanne Watkins, Benefits Specialist in the Benefits department at UNMC.
Jo, as she's called by her peers, has been a UNMC employee for over 40 years and is the "go to" person for benefits information on campus. Jo is often described as confident, patient, and compassionate in her work.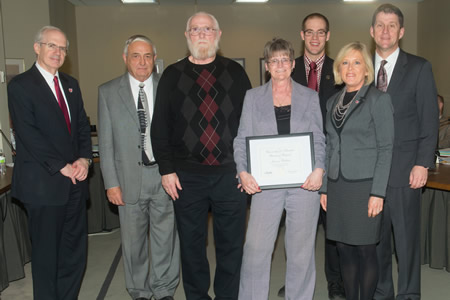 Nominator Linda Cunningham describes Jo as a leader who works well with her co-workers and colleagues. She said, "Jo provides outstanding customer service in the Benefits office. The breadth and depth of her knowledge of all thing BENEFITS is exceptional. Faculty and staff all benefit from her expertise and she truly cares about the well-being of everyone she helps."
Supervisor Jayme Nekuda describes Jo as one of the hardest workers she knows. "Jo is action-oriented, detail-oriented, honest, and confident. If Jo is asked to work on a project, it will get accomplished on time and with no errors. In fact, she is the best proof-reader I know. She never complains when projects get added to her desk; she merely puts her head down and gets them done."
Today, Jo is accompanied by her husband, Jim Watkins, and her supervisor Jayme Nekuda. Please join me in thanking Jo Watkins for her contributions to the University of Nebraska Medical Center.