It is my pleasure to present a KUDOS award to Fauneil Meier, Executive Assistant to the UNK Vice Chancellor for Business and Finance. Fauneil has been a member of the UNK family since 1977 when she began her career in the Department of Speech Communications. Since then she has worked in several campus offices, has taken time away to care for her young family, served in temporary positions when other assistants were on leave or when a position was vacant, and, in 1996, rejoined the staff on a full-time basis. She was promoted to her current position in 2011. As a result of her professional journey, most everyone at UNK knows Fauneil and they respect and enjoy her pleasant personality, her work ethic, and her sense of campus history. "I consider myself very blessed to work every day with such great people," she says.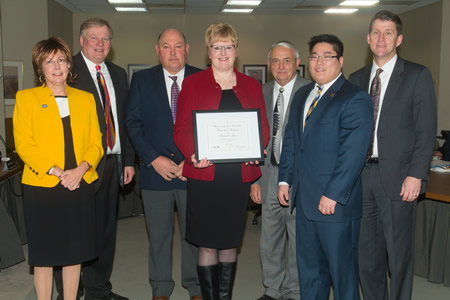 As Executive Assistant in Business and Finance, Fauneil is the initial face and voice of the division, managing contacts from both campus and off-campus constituencies. In addition, she manages and prepares internal and external correspondence; monitors various budgets; oversees appointment schedules; coordinates and prepares reports to the Board of Regents; and maintains an awareness of University procedures and activities. In the last year she has also assumed responsibilities associated with UNK's University Village Board.
Beyond her job description, Fauneil has served as both vice president and secretary of Staff Senate and has twice been named UNK's Employee of the Month. She is also the proud grandmother of seven grandchildren and when she is not assisting and supporting Business and Finance, she is assisting and supporting them.
With Fauneil today is her husband, Jim Meier. We are proud to recognize her for her exceptional work.