The Board of Regents is pleased to present a KUDOS award to Erin Owen, Executive Director of University Communications at the University of Nebraska at Omaha.
A visionary executive, Erin oversees a team of 21 staff members who work together to tell the UNO story. Her team acts as a central resource for the rest of the University, providing critical communications services to help departments and units tell a consistent and authentic story about UNO. Marketing, branding, digital communications, media relations and crisis communications all fall under Erin's wheelhouse. Summarizing all of Erin's contributions would be impossible, but I'd like to talk about two of her finest qualities: passion and professionalism.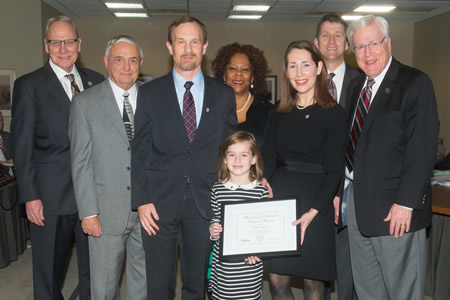 First, Erin's passion for UNO and its students is evident in everything she does. Just attend one of UNO's signature events, such as TEDxUNO or Commencement, or take a look at its recent marketing campaigns or new website, and you'll feel the Maverick pride.
Second, Erin's ability to remain professional and get things done in high-pressure situations is unmatched. In 2014, when a residence hall caught fire, Erin organized an effort to share the information as quickly and accurately as possible. And this January, when President Barack Obama expressed interest in coming to UNO's Baxter Arena, Erin immediately offered her team's assistance to the White House staff and worked with campus partners to coordinate the event. From preparing mass communications and volunteering before and during the President's visit, the help her team provided led to a successful and special event that gained national exposure for UNO.
Erin has brought her husband, Rob Owen, and daughter, Ava Owen. Please join me in thanking Erin for her dedication to UNO.