The Board of Regents is pleased to present a KUDOS Award to Eric Wingert, a lead software developer in Information Services at the University of Nebraska at Omaha.
Eric has been a dedicated employee since he arrived at UNO more than 15 years ago. A skilled programmer, Eric works across campus, in support of UNO's Metropolitan University mission, ensuring various critical systems are fully functioning 24/7. This also includes UNO's website, which has undergone a transformative transition over the past two years to enhance the experience for current and prospective students, faculty, and staff.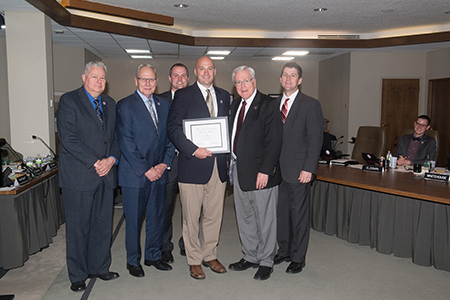 Eric works to ensure users have the best experience possible when interacting with UNO and is a key support person for Admissions and Enrollment. Eric was part of a wider UNO team that helped welcome the largest and most diverse incoming freshman class in history for 2015-2016. Eric's work directly supports two of UNO's goals to be student centered and academically excellent.
In recognition of all of his great work, Eric was honored as UNO's Employee of the Year in April 2016. Eric's ability to collaborate with and work with a variety of units on campus demonstrates his outstanding interpersonal skills, a deep understanding of his job, and an ability to adapt to any situation. He's a true Maverick.
One of Eric's nominators wrote, "Eric exemplifies exceptional leadership in providing a high-level of customer service to the university. As support for all student systems that run on campus, Eric frequently is asked to be on call 24/7. He does this willingly and with a constant focus on the satisfaction of the end user."
Please join me in celebrating Eric's newest achievement, a KUDOS award, and thanking him for his dedication to UNO.