The Board of Regents is pleased to present a KUDOS award to Diane Ciecior, Senior Accountant in Financial Services at the University of Nebraska-Lincoln.
Diane is the standard-bearer for customer service. She personifies institutional knowledge, providing perspective and wisdom. A tireless advocate for doing what's right and best, Diane consistently exceeds expectations while demonstrating compassion for those with whom she interacts. Her solutions to problems have addressed every angle and concern, and she is always looking for how to improve.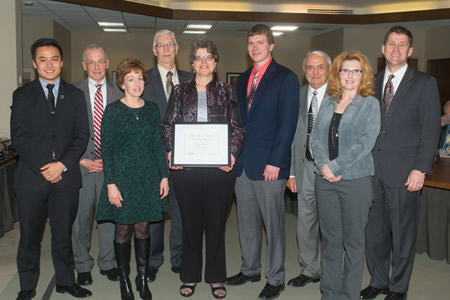 The University of Nebraska's Administrative Systems Group relies on her keen ability to test new functionality and systems configuration prior to deployment to the general campus. A colleague at one of the colleges recently wrote to Diane's director: "Diane is one of the most professional, helpful, and knowledgeable people on campus. I'm extremely grateful for all that she does for us." One of her co-workers noted, "She is passionate about her job and compassionate about helping anyone else. Diane draws on her extensive knowledge of the University to always connect you to the right people and information." Another of the directors in Financial Services commented that she should receive this award every year.
Diane is accompanied today by her husband, Martin Ciecior; her son, Brent Ciecior; her supervisor, Brenda Owen, Director of Accounting and Finance; and Mary LaGrange, Controller.
Please join me in thanking Diane for her dedication to the University of Nebraska-Lincoln and to the Office of the Vice Chancellor for Business and Finance.