On behalf of the Board of Regents, I am pleased to present a KUDOS Award to Carol Gaebler, Associate Director of Speech-Language Pathology, or SLP, Clinical Services at the Munroe-Meyer Institute at UNMC.
Carol is a constant and trusted resource for patients, families and staff. She is a tireless advocate for those with whom she works and most of all, for her patients. She excels in teaching, constantly searching for new ways in which to innovate and excel.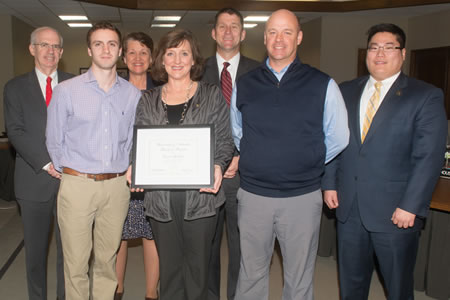 Nominator Dr. Amy Nordness said Carol "is a master clinician who continuously seeks opportunities to share her knowledge and train the next generation of SLPs. She is always searching for continuing provider education that will benefit patients." Carol developed a scientific-journal club in her department in order to stay on top of research within the field.
When her department's director retired, Carol stepped up as interim director. In this role she advocated for her staff and department, while expanding collaboration with Nebraska Medicine. She was pivotal in establishing new collaborations with the Huntington's disease and Parkinson's disease clinics within the Department of Neurology.
When she saw a gap in services for communication support for patients with head and neck cancer, she wrote and received a grant to establish a lending library so patients could access the needed communications technology.
Today, Carol is accompanied by her supervisor, Dr. Amy Nordness and her family members Sue Carraher, Mike Brown, and Matt Gaebler. Please join me in thanking Carol Gaebler for her contributions to the University of Nebraska Medical Center.