On behalf of the Board of Regents, I am pleased to present a KUDOS Award to Todd Gottula, Director of News and Internal Communications at the University of Nebraska at Kearney.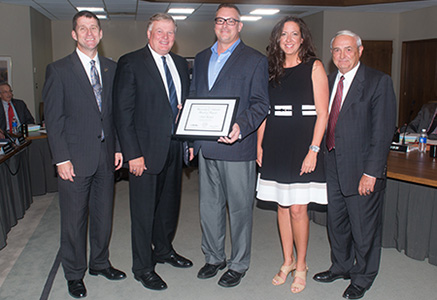 In brief, Todd is responsible for setting and carrying out the campus news agenda through news releases, photography, and promoting stories to the media. He has more than excelled in the performance of those responsibilities. In the relatively short time since Todd joined UNK (July 2013), the campus's visibility has increased exponentially. This is due in large part to his development of "UNK Update," an electronic newsletter distributed weekly to thousands of faculty, staff, students and alumni. It is also a result from his redesign of UNK's online newsroom. The news website, social media channels and clicks on stories in the e-newsletter bring increasingly more visitors to UNK.edu. In fact, readership on the news website has increased from 7,000 page views to more than 250,000 per year. He has revised media relations efforts to further the reach of UNK stories, such as doubling the number of media releases sent from the news office. Todd established strong relationships across campus to serve the news and needs of colleges and departments, and he is skillful at identifying photo opportunities and seems to always be on call to cover them. He has improved digital/visual storytelling; played a lead role in the recent redesign of the UNK website; and he often serves as a campus spokesperson for media.
In addition to day-to-day responsibilities Todd serves as editor of the New Frontiers research magazine, conducts media training for students and faculty, developed and presented a new campus "News Summit" for faculty and staff, and is a member of UNK's Staff Senate and Emergency Operation Team.
Todd Gottula is a UNK Difference-Maker. We take pride in saluting him and acknowledging his exemplary work on behalf of the University of Nebraska and its students. With Todd today is his wife, Kristin.