On behalf of the Board of Regents, I am pleased to present a KUDOS Award to Susan Deiger, Office Associate for the University of Nebraska at Kearney Theatre Program in the Department of Music and Performing Arts. Susan, who joined the UNK staff in September 1998, said she is incredibly fortunate to have the opportunity to come to work every day and immerse herself in the art that she loves. Her supervisor, Director of Theatre, Darin Himmerich, describes Susan as "indispensable" and as "the person that gets things done." In addition to the office support she provides, her position requires oversight of a host of theatre and dance-specific responsibilities. Among them are box office operations; mentoring and supervising student employees; maintaining ticketing software and equipment; and coordinating student matinee performances.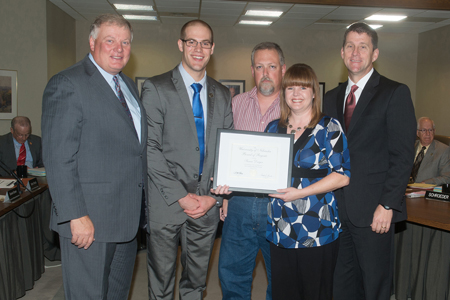 Susan also generates publicity for the theatre program, including graphic design coordination, press releases, mailings and invitations. She handles seasonal program production, such as soliciting advertising, creating and editing ad copy, and preparing layouts; and ordering scripts, securing performance rights and payment of royalty and rental fees. She has also instituted a computerized ticketing system and created quality programs for productions.
When asked what she is most proud of, Susan's first thoughts are of others. Susan said, "I am always proud to see the work of our students, faculty and staff on stage in front of an audience."
With Susan today is her husband, Shawn. Congratulations, Susan, for your exceptional contributions. What you do each day makes more of a difference than you might realize—not only to students of theatre, but to the entire University.