On behalf of the Board of Regents, I am pleased to present a KUDOS award to Steven McGahan, assistant director for technology and instructional design specialist for UNK's eCampus division.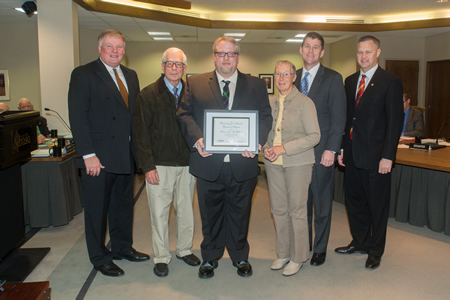 Steve was hired in 2003 as UNK's first eCampus instructional designer. Online education has advanced tremendously in the past decade and, at UNK, Steve has been a major player. His supervisor, eCampus Director Gloria Vavricka, credits his "innovative training ideas, his enthusiasm and knowledge of online education, and his gifted skills as a teacher" as factors in the UNK program's growth from just a few offerings in 2003 to its current level of 40 programs that reach around the world. He works with faculty in Natural & Social Sciences and Fine Arts & Humanities to design and develop courses; consults with faculty on online teaching strategies; develops multimedia for online courses; teaches online courses for the Department of Computer Science & Information Technology; and, in his role as assistant director of eCampus, has taken on responsibilities such as writing the eCampus strategic plan and coordinating an academic program review.
He has also implemented new programs like UNK's eLuncheons, where faculty and staff share the latest online technology and teaching pedagogy, and eCampus Faculty Online Training, a 10-week course on the basic skills of online teaching. Steve has presented at several national and regional conferences; and has had his work published in scholarly resources.
Steve's guests today include his parents, Dr. James & Martha McGahan, and UNK colleagues Gloria Vavricka, Julie Saalfeld, Olimpia Leite-Trambly and Karen Premer. Congratulations, Steve, for work that is above and beyond the ordinary.