Working with diverse stakeholders, Shawn has assisted in the start-up of over 20 new rural businesses, authored or administered over one million dollars in federal and state rural development grant projects, and implemented experiential learning opportunities for youth and college students. Central Nebraska's Open for Business Magazine recently published two of his business development articles: "Do the Homework" and "Planning Your Business's Perfect Location." Both have been nominated for their "Resourceful Award." He was also recognized recently by the U.S. Small Business Administration as Financial Services Champion of the Year 2014 for Congressional District 3. He serves on the NU Entrepreneurship Team (UNET) and, since the formation of the Rural Futures Institute, has collaborated on several innovative rural development projects and played a direct role in three Institute-funded seed grants.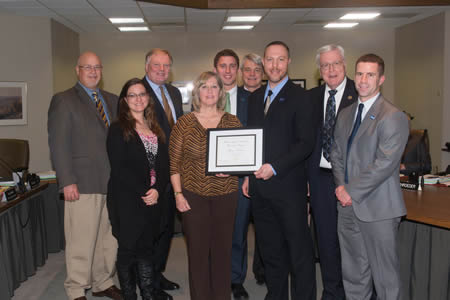 Shawn is quick to share credit for the Center's accomplishments, but his colleagues return all credit to him. College of Business and Technology Dean, Tim Burkink describes him as "very entrepreneurial in how he executes the Center's mission," and lauds his work with students and his engagement with regional economic development as "exemplary."
With Shawn today are his mother Sandy Luedtke, Dean Burkink, former office manager Carrie Stithem, and UNK colleague, Jon Watts. Please join me in congratulating Shawn Kaskie for making an impressively positive difference at UNK, throughout the University of Nebraska, and across the region and state.