On behalf of the Board of Regents, I am pleased to present a KUDOS award to Ryan Shaw, Web Designer in the Public Relations department at UNMC.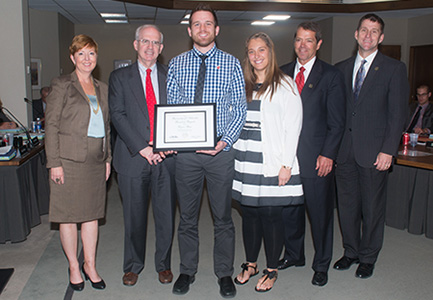 In 2014, Ryan was the driving force behind the redesign of UNMC's public website and its intranet. While other institutions may have hired a consultant for such an undertaking, Ryan displayed confidence in his skills as a web designer and urged to keep the redesign in-house.
Stacie Hamel, Ryan's supervisor and nominator, says that the redesign is a much better representation of what takes place at UNMC. "The website serves as UNMC's public face to the world. Ryan's design was simple, clean, attractive and easy to navigate. With help from the members of Public Relations and IT, the redesign was a huge success."
Bill O'Neill, director of Public Relations, says that not only "is Ryan a skilled web designer, he also understands the complexities of a university and the ever-expanding role that a website must have in an academic medical center's success."
He added that Ryan is the epitome of a talented team player. "Ryan is always willing to help with new projects and continually brightens the mood of our office." Today, Ryan is accompanied by his wife, Amanda Shaw, and his supervisor, Stacie Hamel.
Please join me in thanking Ryan for his contributions to the University of Nebraska Medical Center.