On behalf of the Board of Regents, I am pleased to present a KUDOS award to Robin Jaeckel, administrative associate II in the University of Nebraska Medical Center College of Public Health dean's office.
As a 15-year employee of UNMC, Robin is the go-to person in the office. Supervisor Dr. Alice Schumaker says that if there is one word to describe Robin in her role at the college, it would be "resource." "Robin is viewed as a leader by her peers and colleagues. She is a wealth of knowledge about UNMC processes, procedures, and policies and many people ask her advice and direction. Robin is always ready to help no matter what," Dr. Schumaker writes.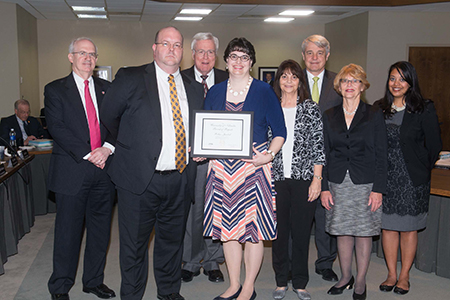 Nominator Pam Ehmke writes that Robin is delightful to work with because she has a positive attitude about what needs to be done and brings excellence to the service she provides. "She is always patient and friendly as she assists faculty, staff, students and visitors. She takes the initiative on projects, is resourceful at finding ways to fix challenges and shares her experiences with others so that they too can grow."
Nominator Mohammed Siahpush describes Robin as compassionate, kind and indispensable. "She is hardworking and not afraid of challenges. She works well with the other members on our team and is consistently professional and ethical. She gets the job done."
Today, Robin Jaeckel is accompanied by her husband, Matt Jaeckel, her mother, Maggie Nordland, and her supervisor, Dr. Alice Schumaker. Please join me in thanking Robin Jaeckel for her contributions to the University of Nebraska Medical Center.