On behalf of the Board of Regents, I am pleased to present a KUDOS award to Priscilla Phillips, Administrator in the Cardiology Division within the Department of Pediatrics at the University of Nebraska Medical Center.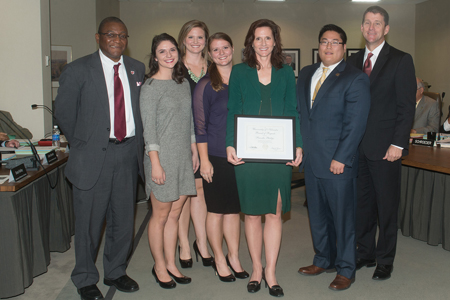 Nominator Dr. Christopher Erickson says that Priscilla is one of the most pleasant people to work with on a daily basis. He said, "Priscilla has proven to be as hard a working individual as I have ever known. I am often in awe of her and all of the things that she does. Her dedication to our office is rare to find as she will go to great lengths to make sure our patients and their families are served well."
Nominator Dr. John Kugler describes Priscilla as an extremely conscientious, dedicated, and incredibly hard working leader with many positive attributes. He said, "Priscilla is a champion of excellence and is never intimidated with challenges, regardless of how insurmountable they may seem at the outset. Priscilla is highly trusted by people internally and externally. Her honesty, integrity and accountability are above reproach."
Supervisor and nominator, Dr. Robert Spicer adds that Priscilla works very hard to create a supportive environment for the staff. Dr. Spicer said, "Ms. Phillips exemplifies each and every UNMC value on a continuous basis and has done so for 20 years. She is a confident but compassionate leader. She leads by example as well as by word. She is a trusted and vital member of our team, our hospital, and the University."
Today, Priscilla is accompanied by her supervisor, Dr. Robert Spicer and her daughters Cassie, Ally and Thea. Please join me in thanking Priscilla for her contributions to the University of Nebraska Medical Center.