The Board of Regents is pleased to present a KUDOS Award to Diana L. Jones, Associate Director of Student Records at the University of Nebraska at Kearney. Diana has been a member of the Student Records staff for nearly 20 years and has served in her current position since June 2011.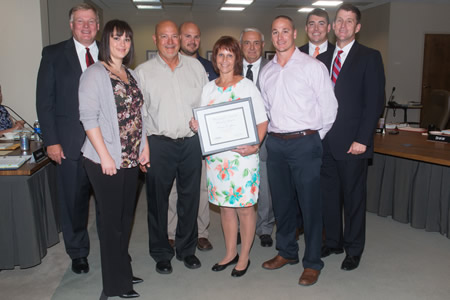 Diana's responsibilities include all aspects of course registration, final grade reporting and processing, and updating student records. She works with academic departments to manage honors courses, dual enrollment, exceptional withdrawals, and student appeals. In her work, new initiatives and technological advances continue to improve the services offered by Student Records, but simultaneously bring new administrative challenges. Diana's supervisor, Director of Student Records Kim Schipporeit, says Diana always rises to the occasion. She develops written guidelines for students in the dual credit program, informational handouts for their parents, and a website for high school counselors. When faculty report issues, Diana streamlines the roster correction process to make student notification timelier. She initiated a process to sync name changes logged at other NU campuses, and is developing and implementing an office records retention and disposal schedule. Diana is most proud of her work in getting final course grades entered by established deadlines. "The joke among faculty is," she says, "get your grades in or Diana will hunt you down." "I'm not harsh," she says, "just persistent." Lastly, and after giving due credit to her team of colleagues, Diana is deeply proud of UNK's transition from outsourcing class schedules for printing and manually distributing them across campus, to creating an electronic version.
Joining Diana today is her husband Dave Jones, daughter Stefanie Roper and son Kris Jones of Kearney, and son Luke Jones of Colorado. -- It is a pleasure to recognize Diana L. Jones for outstanding, above-and-beyond dedication and achievement on behalf of the University of Nebraska at Kearney.