In his eight years as director, Dave has introduced several cost saving and innovative services. These enhancements have solidified this office's status as the 'first choice' of UNL campus clientele for printing, imprinted products, mail and supplies delivery, arranging campus moves, and now, 3D printing.
As an example of one of his many contributions to his department, Dave led a team to improve on an already popular office copier contract when vendor changes were made. Estimates put UNL savings well over $400,000 annually compared to the prior contract.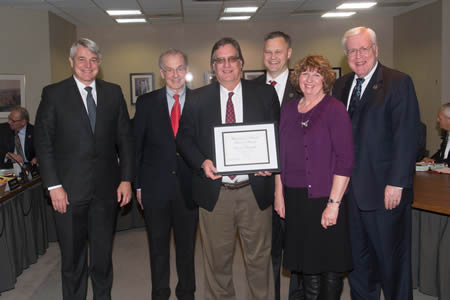 UNL's early research and development of 3D printing services has gained recognition in national print association circles, which Dave initiated. In the past 15 months, over 50 faculty and UNL students from various departments have taken advantage of the 3D print equipment available, logging over 560 hours of project creation.
These initiatives and the on-going high quality of print materials for UNL Admissions, Athletics, and campus academic departments have been accomplished because of Dave's continued emphasis on sustainable business practices. In summary, he has taken UNL's high quality print and mail operation to higher levels of customer service and efficiency.
Dave's guests today are his wife, Heidi Hadenfeldt and supervisor, Kim Phelps. Please join me in thanking Dave Hadenfeldt for his dedication to the University of Nebraska-Lincoln.