The Board of Regents is pleased to present a KUDOS award to Bob Skates, Facility Operations Manager for the West Central Research and Extension Center.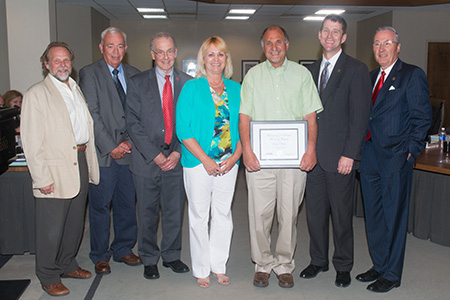 Bob oversees operations for over 15,845 acres of research land with over 59 buildings at four separate sites. He has served as coordinator, on-site project manager, and inspector for over 32 major projects over the past 10 years. Barry Shull, Institute of Agriculture and Natural Research facilities director said: "Since North Platte is so far away from Lincoln, it has been invaluable to have someone of Bob's talent and caliber be the onsite person managing West Central Research and Extension Center construction projects."
Just a few of the projects Bob has managed include the construction of a beef handling facility at the Gudmundsen Sandhills Laboratory, the conversion of an old swine facility into a state of the art wind tunnel research facility, and construction of a new wheat research center building. Colleagues say that Bob's dedication to seeing a project through is second to none. He attends all design and construction meetings and is the glue that holds construction and renovation projects together.Today, Bob has brought the following guests: his wife, Dalene Skates, Don Adams, district director at the West Central Research and Extension Center; and Barry Shull, facilities director for IANR.
Please join me in thanking Bob for his dedication to the University of Nebraska-Lincoln and the West Central Research and Extension Center.