The Board of Regents is pleased to present a KUDOS award to William Pickett senior director of Involvement and director of Housing at the University of Nebraska at Omaha.
As Director of Housing, Bill continuously works hard to make housing run smoothly. He puts in long hours and constantly makes himself available to everyone - staff or student. His energetic and hard-working attitude is contagious.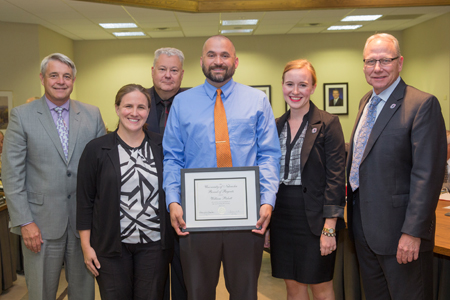 Bill developed the residential contracts, room inventories, emergency procedures, newsletters, mission statement, budget, and other housing operating procedures from scratch. He also implemented the new housing system, StarRez, which has helped his department tremendously.
Bill's nominator, Denise Wieczorek said, "He was promoted to senior director of Involvement and shuffles back and forth between two offices and still manages to stay involved and keep everyone updated on current situations."
Denise further notes that Bill is particularly skilled at building interpersonal relationships, based on trust.
It was no surprise to the UNO community when Bill received UNO's Employee of the Year award in 2013.
Bill's guest today is his wife, Kellie.
Please join me in thanking Bill for his dedication to the University of Nebraska at Omaha.