The Board of Regents is pleased to present a KUDOS award to Linda Major, assistant to the vice chancellor for student affairs and director of the Center for Civic Engagement at the University of Nebraska-Lincoln.
In the former role, Linda coordinates a comprehensive approach addressing high-risk behaviors on campus and in the community. In the latter role, she is responsible for advancing civic engagement through co-curricular leadership development and service learning initiatives.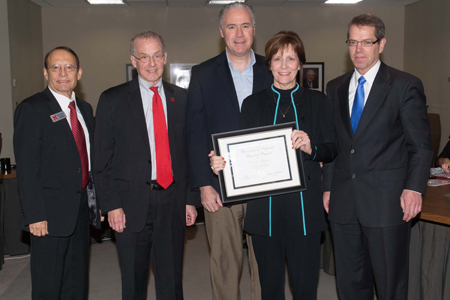 Linda also served as project director for NU Directions. In this role she was responsible for implementation of a comprehensive, long-term strategic plan to reduce high-risk drinking among college students. The strategic plan, developed and guided by a campus/community coalition, was based on an environmental management approach.
She also serves as interim assistant director for Nebraska Campus Compact, a coalition of 12 universities and colleges in Nebraska dedicated to promoting civic engagement throughout the state.
Linda is the force behind UNL's Character Campaign, a program dedicated to recognizing students "who do good." Each semester, the campaign identifies students who exhibit high integrity and good character traits.
Linda is creative, hard-working, a genius at getting people to work together – and she always takes the high road. Colleagues can discuss an idea with her and then get out of the way and let her complete it.
Linda is accompanied today by her guests: Dr. Juan Franco, vice chancellor of student affairs and her immediate supervisor; and Gary Major, her husband. Please join me in thanking Linda for her dedication to Student Affairs and to the University of Nebraska-Lincoln.