Laura has been with UNMC for the past 26 years and has adapted successfully through numerous changes in the department.
Dr. Robert Muelleman, chair of Emergency Medicine, explained that this has been no easy task. "From recruiting and hiring numerous faculty every year, to consolidating the old Clarkson and University hospital emergency departments, to starting a new residency program in emergency medicine, to becoming a new Department of Emergency Medicine at UNMC, Laura has been there every step of the way. Without her administrative skills, I don't think we would have accomplished so much so fast. She is trustworthy, kind, collegial, generous, hard-working, and tenacious."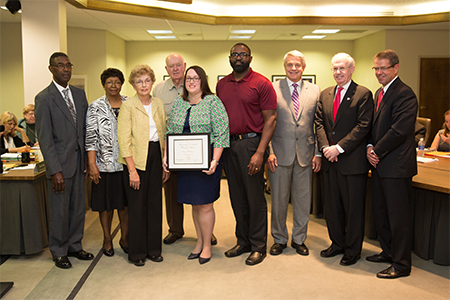 Nominator Alisa Seidler says that Laura is one of the most well-rounded individuals on the UNMC campus. "Laura's skill and dedication to motivate her staff and faculty is unlike any other administrator. She truly sees the business end of the spectrum, however, at the same time she does not forget about the human aspect of running the department."
Alisa adds that Laura continually provides the staff and faculty with guidance. "Laura has a friendly and welcoming demeanor, which encourages faculty and staff to come to her with anything. She is always a trusted resource of information. She amazes me with her vast knowledge."
Today, Laura Robinson is accompanied by her husband, Eric Robinson; her parents, Tom and Janeane Wilson and her in-laws, Charles and Doris Robinson. Please join me in thanking Laura Robinson for her contributions to the University of Nebraska Medical Center.