On behalf of the Board of Regents, I am pleased to present a KUDOS award to Judy Anderson, accreditation coordinator for the Foundation for Accreditation of Cellular Therapy (FACT) at the University of Nebraska Medical Center.
Judy has been with UNMC since 2001 and has spent the majority of her career in research at the Eppley Institute. Nominators Thomas Caffrey, Dr. Dominick DiMaio, Dr. Julia Bridge, and Karen Taylor all say that Judy came on board with "the right stuff" to thrive in her position – talent, communication and team-building skills, ethical standards, leadership and incredible organizational skills. In addition, Judy has an upbeat attitude, giving nature, and a willingness to extend herself beyond what is required.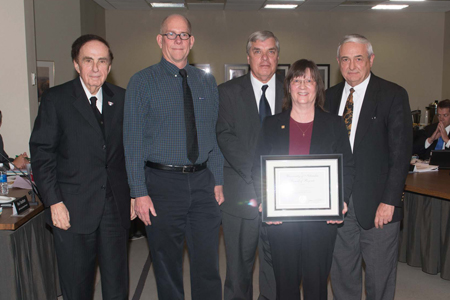 During her time at Eppley, Judy was in charge of the Rapid Autopsy Pancreatic Program, a program that became very successful in fueling pancreatic cancer research. She worked hard to make sure this program succeeded and designed the operation to run smoothly. Dr. DiMaio wrote that "her role required her to be available at all times of the day or night including weekends; a sacrifice that has never impacted her spirit or commitment."
Today, Judy is accompanied by her former supervisor, Dr. Michael Hollingsworth; as well as her husband, Richard.
Please join me in thanking Judy Anderson for her contributions to the University of Nebraska Medical Center.