Jojen Allder is the Lithographic Press Operator for the East Campus Union Print Shop, in the office of Business and Finance at the University of Nebraska-Lincoln.
Jo has been in charge of printing the Board of Regents agenda for well over ten years. This particular print job can be, at times (actually almost every time is), a challenging task. Our agenda is quite voluminous and requires Jo to produce a copy for each Regent, the President and Vice Presidents, the Chancellors, the Faculty Senate Presidents…in fact, about everyone you see here sitting at these tables.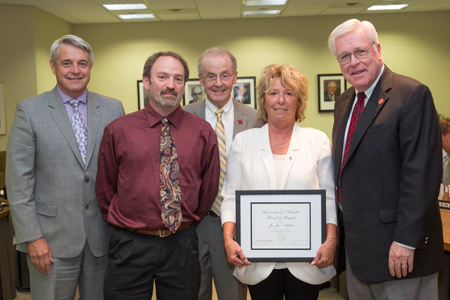 The process requires a quick turnaround, in order to meet our review and distribution deadlines, as well as the legal deadlines associated with notices of public meetings. Regardless of when Jo receives the Board agenda, or the number of jobs she may already have on deck – especially at the beginning of each semester - Jo and her staff do whatever it takes to ensure a timely delivery of the agenda to the Corporation Secretary's office for mailing and distribution. She even postponed leaving on vacation several years ago to accommodate our printing needs. No matter what the nature of the materials we deliver to Jo, she consistently delivers a superb product.
We can't say enough about Jo and the team at the Copy Center, with respect to the superb work they do for the Board of Regents. On behalf of the Board of Regents, I extend our appreciation and thanks to Jo Allder for her precision, efficiency, flexibility, patience, and overall outstanding work.
Jo's guest today is T. J. Jochum, Copy Center Manager.