The Board of Regents is pleased to present a KUDOS award to (Barbara) JoAnn Moseman, academic transfer coordinator for undergraduate programs at the University of Nebraska–Lincoln.
We recognize JoAnn for consistently working to help transfer students succeed. One of her primary duties is help create articulation processes that uphold the integrity of academic decision-making, by not granting transfer credit frivolously, while at the same time, making fair decisions that allow credit transfer, when supported by departmental review. She has been instrumental in streamlining the transfer credit evaluation process at UNL. Since the new process was implemented, she and a colleague have created more than 2,800 course equivalencies in less than a year. They worked strategically to create these equivalencies in key out-of-state and international institutions from which UNL expects positive results, as it strives to meet enrollment goals.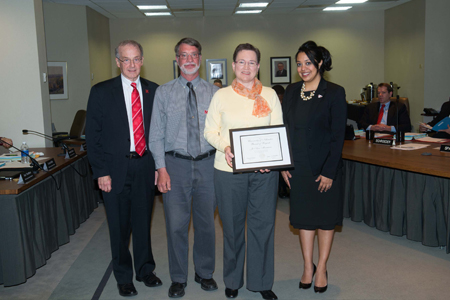 JoAnn also helps students successfully transition to UNL. She produces a weekly newsletter full of information, from where to get flu shots to events for Martin Luther King, Jr. Day. She sponsors Tau Sigma, the honorary society for transfer students and helps organize focus groups to better know the needs of transfer students.
JoAnn's peers in the Nebraska Association of Collegiate Registrars and Admissions Officers elected her as vice president for education and professional development. In this role, she facilitates collaboration between Nebraska institutions to solve real problems faced by transfer students.
JoAnn is joined today by her husband, Dan, and her supervisor, Nancy Mitchell. Please join me in thanking JoAnn for her dedication to the University of Nebraska­–Lincoln and its transfer students.