On behalf of the Board of Regents, I am pleased to present a KUDOS Award to Jean Jacobson, collection coordinator and office associate at the Museum of Nebraska Art. Jean began her service at MONA on January 24, 1994 – making today her 20-year employment anniversary.
Director of MONA Audrey Kauders gives high praise to Jean. Quiet, kind, and thoughtful by nature, much of her work is done behind the scenes, but the museum would not function well without her. Her responsibilities include conducting research on artists; cataloging, making condition reports, labeling, and housing museum artwork; maintaining the collection database; assessing and arranging conservation needs; tracking location and movement of artwork; and processing outgoing loans from MONA's collection to other museums and institutions.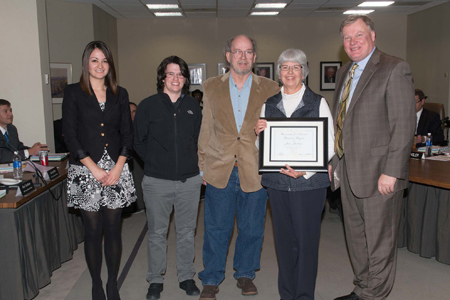 The outgoing loans that Jean has facilitated have included rare and valuable pieces such as Robert Henri's (Hen-rye's) Portrait of Miss Eulabee Dix in Wedding Gown to the High Museum of Art in Atlanta, and an incoming loan of a Henri portrait from the High Museum to MONA; as well as the loan of a Lawton Parker portrait from MONA to Philbrook Museum of Art in Tulsa. In addition, Jean supervised collection storage upgrade projects for two- and three-dimensional storage rooms and two preparation rooms; she continually upgrades MONA practices to "best practices for museums" wherever possible; and she assisted in collaborations with the Nebraska State Historical Society in the publication of a book about a journal in MONA's collection by Lt. James E. H. Foster, 3rd Cavalry.
With Jean today is her husband, UNK Professor of Art and Art History Howard "Jake" Jacobson. Jean and Jake have two daughters, Amy and Crystal. Please join me in thanking Jean Jacobson for her exceptional work and dedication to the Museum of Nebraska Art and the University of Nebraska at Kearney.