On behalf of the Board of Regents, I am pleased to present a KUDOS award to Jaclyn Smith, assessment associate in the College of Pharmacy Dean's Office.
Nominator Dr. Allison Dering-Anderson describes Jaclyn as the face of UNMC. "She's always smiling. She is willing to take on extra work to make things perfect because acceptable is way below her standards. She makes us all look good when she deals with people off-campus and she is truly one of the most humble and understated people I've ever worked with. Her discipline and hard work are significant reasons for the success of many projects in the College of Pharmacy.".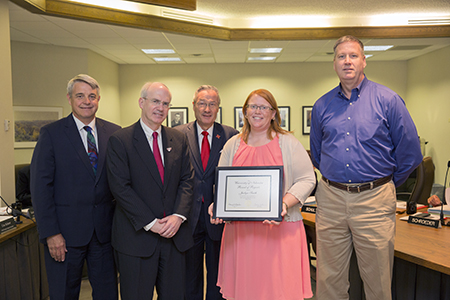 Jaclyn has recently been asked to manage two relatively large research projects that involve coordination of approximately 60 clinical sites, while still completing her every day responsibilities. Dr. Donald Klepser says it is a pleasure to work with Jaclyn on these projects. "Jackie exemplifies the professionalism and customer service that not only make us a better organization but also raise the perception of the institution in the eyes of those with whom she interacts. She deals with everyone with respect and good humor."
Jaclyn also makes a big impact on the pharmacy students. Carolyn Corn said that if it were not for Jaclyn she would not have accomplished as much as she had in her time at UNMC. "I believe that through her hard work and dedication to this University many people have been blessed with the opportunity to accomplish many goals and achieve more than they ever thought possible."
Today, Jaclyn Smith is accompanied by her supervisor, Jim Gamerl. Please join me in thanking Jaclyn Smith for her contributions to the University of Nebraska Medical Center.