The Board of Regents is pleased to present a KUDOS award to David Hartline, information technology manager in the College of Business Administration at the University of Nebraska-Lincoln.
A year ago, the business college began a partnership with the campus information services department. As a result of that partnership, coupled with David's hard work and innovation, CBA continues to have the reputation as one of the best help centers on campus, and now it is better than ever.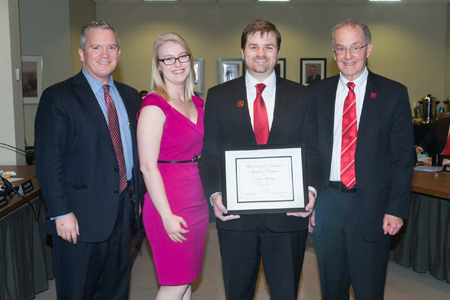 Pictured:Regent Clare; Morgan Hartline, wife; David Hartline; Chancellor Perlman
The help desk receives 150 to 300 requests per week, which David manages through his support and development of an outstanding staff. He not only promotes good team work, but instills accountability and leadership in each and every employee. His staff members are fully engaged in their work and understand they are each important members of the team.
David also leads by example. The number of service tasks he alone completes in a week is astounding. He completes many of these tasks after hours, during special events and on weekends. David is constantly putting CBA and UNL needs in front of his own by always being available, regardless of day or time.
David is organized, shows great initiative and has a unique ability to reach out to people and make them feel comfortable and a part of the group. He has done an outstanding job managing a high-stress position and area, and has made a significant impact on the bottom line.
Today David is accompanied by his wife, Morgan Hartline. Please join me in thanking David for his dedication to the University of Nebraska­-Lincoln and the College of Business Administration.