The Board of Regents is pleased to present a KUDOS Award to Barbara Estes business manager in the Office of International Education at the University of Nebraska Kearney.
Although Barb officially started her career at UNK in June of 2011, she has been an active member of the university community for much longer. Between Barb, her late husband UNK Professor Kent Estes, and their three sons, Erik, Aaron and Luke, her immediate family has earned seven degrees from UNK.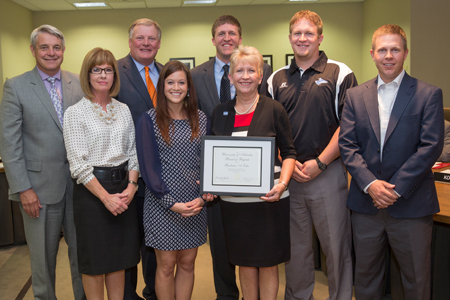 As business manager, Barb processes international education financial transactions; monitors budgets; oversees position searches and hiring activities; finalizes office travel arrangements and coordinates the Takushoku Aviation Transportation Program. She also hires and supervises work study students; assists with special projects such as delegate visits and works closely with office staff to provide support to international students.
Colleagues note that international students are "at the heart of all her efforts." Further, she is described by coworkers as the group's "most valuable team player," and the "glue that holds the office together."
Joining Barb today are her sons Erik, Aaron and Luke.
Please join me in recognizing Barb for outstanding accomplishments that reach not only the far corners of the University of Nebraska at Kearney, but the far corners of the world.