On behalf of the Board of Regents, I am pleased to present a KUDOS award to Athena Ramos, Health Disparities program coordinator in the College of Public Health at the University of Nebraska Medical Center.
Nominator Antonia Correa says that Athena is a leader within the College of Public Health, UNMC, and the community.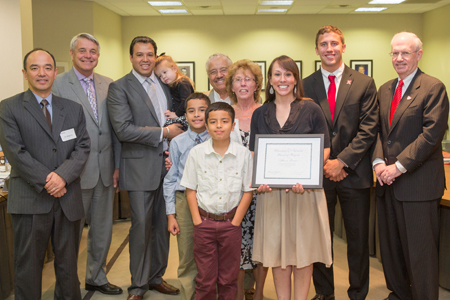 "She is often a liaison between UNMC and various community groups. She understands relationships and networks among people, conditions, and behaviors and is keenly aware of the larger picture locally, nationally, and across the globe."
Supervisor Dr. Dejun Su adds that Athena is a great relationship-builder and a positive team player. "She exceeds expectations when it comes to initiating and developing relationships between the Center for Reducing Health Disparities and our community partners. She can easily adapt to any demanding work environment and establish positive working relationships with fellow colleagues. The solidarity she has cultivated within her team has ensured that I can count on her and her team."
In addition to being a leader, Athena is extraordinary in securing external grants and managing sponsored projects, Dr. Su said.
Today, Athena Ramos is accompanied by her supervisor, Dr. Dejun Su; her husband, Jose Sanchez; her mother, Katharina Oakes; her godfather, Mike Mendez; her sons, Jonathan and Nicholas Linares and her daughter, Italia Sanchez.
Please join me in thanking Athena Ramos for her contributions to the University of Nebraska Medical Center.