The Board of Regents is pleased to present a KUDOS award to Amber Brannigan, inventory operations and building key manager at the University of Nebraska-Lincoln.
Amber's nomination for the KUDOS award reflects the advocacy of three units within Business & Finance: Financial Services, Facilities Management & Planning, and University Police. Amber is known for her commitment to results and customer focus. She led the turnaround of Inventory Services that included the creation of parts catalogs for FMP technicians, delivery of parts to work zones, analysis of on-hand parts and orders to optimize inventory levels, and 99.99 percent accurate inventory tracking.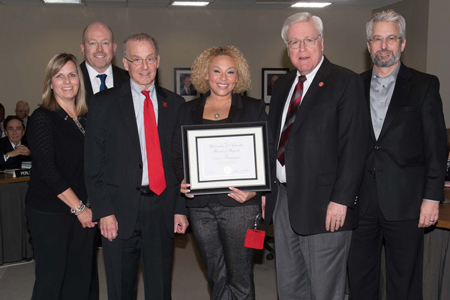 Because of these successes, Amber was given responsibility for the door key operations on campus. In typical fashion, she dove into understanding how to improve efficiency, effectiveness and customer service. Amber eliminated unneeded door key systems, revamped the organization of the unit, integrated her shop into the construction and renovation functions within FMP, and coordinated security functions with University Police. She has also set her sights on making the campus "greener" by targeting the recycling programs. Her colleagues suspect Larry the Cable Guy's "Git 'er done" tag line was inspired by Amber's tireless push for ever greater results for the university. She is a tremendous asset for UNL.
Amber is accompanied today by her guests: Marc Chauche, assistant vice chancellor for financial services; Jo Bialas, her supervisor and director of business operations; Owen Yardley, UNL police chief; and Jim Jackson, executive director for facilities maintenance and operations.
Please join me in thanking Amber for her dedication to the University of Nebraska-Lincoln and to the Business & Finance Department.