The Board of Regents is pleased to present a KUDOS award to Alan Wedige, campus architect at the University of Nebraska at Kearney.
Alan joined UNK in 2012, assuming responsibilities that include facilities master planning, capital program planning, construction contract management, supervision of project managers and maintenance staff, and building codes. In a short time, he has made a significant impact on campus.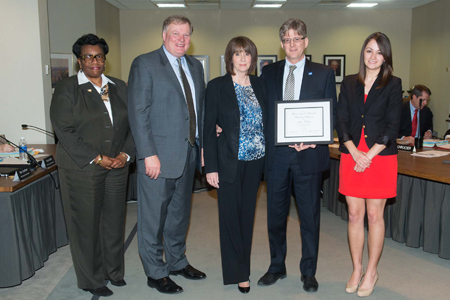 His accomplishments include the design and construction of a new Randall/Mantor Hall entrance, UNK's Wellness Center, design of the Health Science Education Complex, and master planning for UNK's University Village. His current projects range from residence hall safety upgrades to landscape, parking facility and utilities master planning; from athletics planning and programming to designing the building that will replace University Heights. "Alan has brought to UNK a depth and breadth of technical architectural experience, including system experience, that is helping us raise our overall standard for design, construction and operation of facilities," says Director of Facilities Lee McQueen.
That "system experience" is broad and impressive – especially considering Alan's "We are all one University" philosophy. Prior to his service at UNK, he spent more than 13 years as architect and project manager at UNL, where he worked on major projects such as the Hawks Championship Center, Quilt Center, police station, East Stadium expansion, Devaney Center renovation and others.
Accompanying Alan today is his wife, Coleen. Congratulations to Alan Wedige on this well-deserved recognition for professional expertise, and for his superior dedication to UNK and the University of Nebraska.