Join Us for the 2020 "I Love NU" Day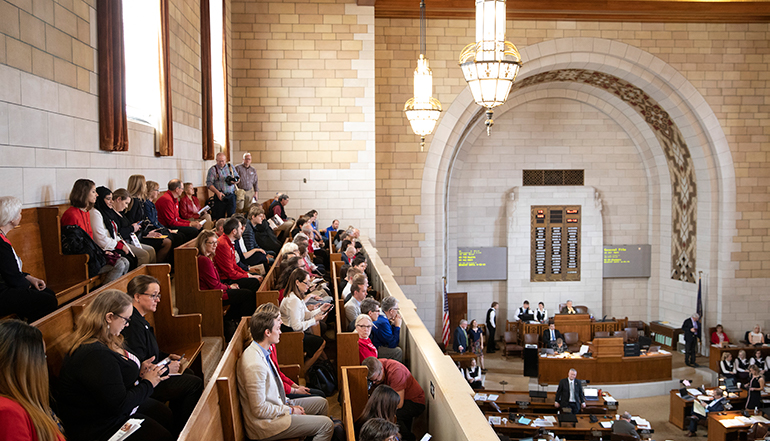 Love your university? You're invited to the third annual "I Love NU" Day on Tuesday, March 10th. Join us at the Nebraska State Capitol from 1:30 to 3:30 p.m. to celebrate and show your love for the University of Nebraska's four campuses: UNK, UNL, UNMC and UNO.
We encourage all attendees to rep their campus colors to show support. We will also have buttons, pins, PopSockets, window clings and other items available at the Capitol to help you show support all year round!
Click the button below to let us know if you'll be joining us.
Event Schedule
The program for the 2020 "I Love NU" Day will begin at 1:30 p.m. and end around 3:30 p.m. Even if you won't be able to attend the full event, we encourage you to stop by during a time that fits your schedule.
1:00 p.m. - 1:30 p.m. — Arrive at the Capitol
Be sure to build 15-20 minutes into your schedule to find
parking
when you arrive at the Capitol. Parking may be found on the surrounding streets, with longer-term parking available in the residential areas around the Capitol. The nearest public parking garage is located at 12th and L Streets.
1:30 p.m. - 2:00 p.m. — Welcome and Opening Remarks
We'll have a short program in Hearing Room 1525, on the first floor of the Capitol. The room is halfway between the information desk and the building's west entrance.
2:00 p.m. - 2:30 p.m. — Gather in the Balcony
After our short program, all supporters will gather in the balcony of the Norris Legislative Chamber to be recognized by the Nebraska Legislature.
2:30 p.m. - 3:30 p.m. — Meet with State Senators in Rotunda
Supporters can visit with senators in the Rotunda or stay to listen to floor debate.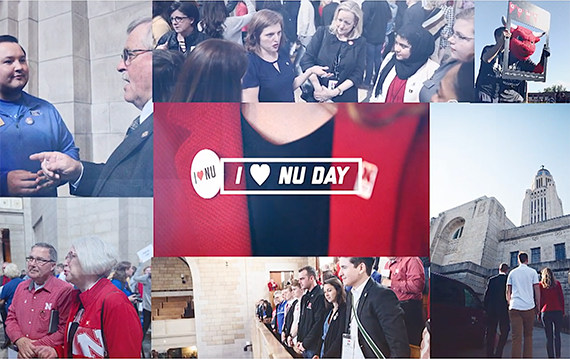 "I Love NU" Celebration Video
Watch the video for the 2020 "I Love NU" Day at the State Capitol.
If you love NU, share it on social media!
Tell your friends you're going to "I Love NU" Day on social media, and invite them too.
Find the handles of your state senators, and tell them you're excited to meet them on March 10th to share why you love the University. Use #NUforNE!
Stay up to date on "I Love NU" Day by joining our Facebook event page.
Erin Cooper
Executive Assistant & Project Coordinator