The University of Nebraska has released the newest episode of its "Leading Nebraska" podcast series, featuring efforts at the University of Nebraska at Kearney to strengthen the pipeline of healthcare professionals for the state's rural communities.
Nebraska faces significant shortages of healthcare professionals, and the gaps are especially acute in rural areas. Thirteen of Nebraska's 93 counties lack a primary care physician, and Douglas and Lancaster are the only counties not officially designated as having enough primary care to meet patient needs. Compounding the challenge, many current practitioners are nearing retirement age – meaning Nebraska must quickly prepare future generations of healthcare professionals to sustain the workforce and meet the needs of the state.
The Central Nebraska Area Health Education Center on the UNK campus is helping to close the gap. The federally funded center works to expose more young people to careers in healthcare and recruit them to serve in rural and undeserved areas.
"Early exposure is really important for high schoolers to recognize there are a variety of opportunities out there within healthcare," Brandon Drozd, the center's program coordinator, says in the podcast. "A lot of students look online, or they see Grey's Anatomy, Scrubs, and that's what they project healthcare is. It's important to educate them on what those careers are actually like in a rural setting and have them see how they might be able to fit into that."
"We've really been able to expose students to additional health careers and opportunities they may not have had previously."
Drozd leads a Health Careers Club that gives rural high school students the opportunity to visit local hospitals and clinics, shadow healthcare professionals on the job, and meet with university students and faculty to learn more about what it's like to study and work in the healthcare field.
On the UNK campus, prospective students can visit the world-class Health Science Education Complex, where future nurses, physician assistants, physical therapists, radiographers and other allied health professionals are trained. The facility, a collaboration with the University of Nebraska Medical Center, opened in 2015, the result of a successful partnership between the university, the State of Nebraska and private donors.
"It's been a great addition to the Kearney campus," Drozd says. "Being able to have the faculty and UNMC students here has really been able to expose students to additional health careers and opportunities they may not have had previously."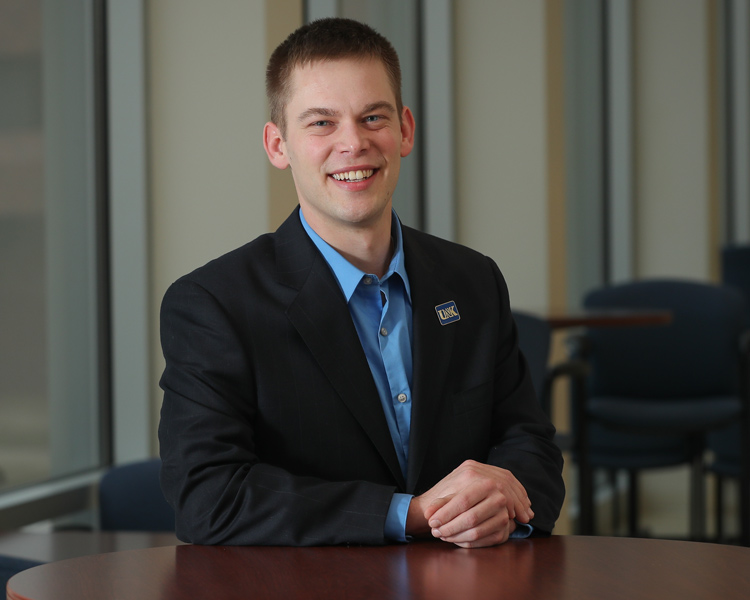 Drozd – himself a native of rural Nebraska and a UNK graduate – takes great pride in helping future generations of young people find their own path.
"I love it because I get to work with high school, college and professional healthcare students in a variety of different ways, managing a grant that gets to make an impact for rural Nebraska," he says.
The NU system's "Leading Nebraska" podcast was launched last fall to share stories of researchers, students and educators across the four campuses who are growing the state's workforce and quality of life. Podcast topics include nursing, agricultural education, workforce development, cybersecurity, teacher education, national defense and others, featuring experts from UNK, UNL, UNO and UNMC.
Listeners may follow the "Leading Nebraska" podcast here.