Chris Kabourek named vice president and chief financial officer
July 11, 2018
University of Nebraska President Hank Bounds announced today that following a national search, he has named Chris Kabourek, a 20-year veteran of the university's senior leadership team, as vice president for business and finance and chief financial officer.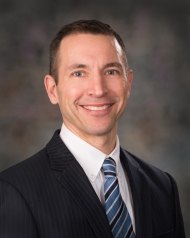 Kabourek, who has held the interim role since January, will assume the permanent position pending approval by the Board of Regents at its Aug. 3 meeting. He brings more than two decades of progressive financial leadership experience at the university, including 11 years as assistant vice president in which he worked closely with executives across and outside the university on budgeting, capital planning, debt financing, accounting, risk management, human resources and benefits, legislative strategy and other areas.
As chief financial officer, Kabourek will be part of the president's executive cabinet and will be the senior business officer for the University of Nebraska system, overseeing all financial and administrative services supporting the university's $2.6 billion operating budget.
Bounds thanked the university-wide committee, chaired by University of Nebraska at Omaha College of Business Administration Dean Louis Pol, that guided the CFO search.
"The University of Nebraska is at a critical point, where we're working to grow our impact while managing limited resources and an increasingly complex fiscal environment," Bounds said. "Chris knows the university inside and out, and he brings the experience and relationships the CFO role requires. Most important, he understands that the university's budget is more than a spreadsheet. It's a reflection of our priorities, and Chris has proven to be a thoughtful and creative leader in helping us invest in what matters most: affordability and excellence for Nebraskans."
Kabourek said: "As a lifelong Nebraskan and first-generation college student, I know firsthand the impact that higher education has on young peoples' lives and our state as a whole. I'm humbled to have the opportunity to help the University of Nebraska continue that work. I share President Bounds' vision for sustaining a strong university that grows our state and I look forward to working with him, the Board of Regents, chancellors, campus colleagues, our partners at the Capitol and others to make that happen."
A native of David City, Neb., Kabourek earned his bachelor's degree in business administration from Nebraska Wesleyan University and his MBA from the University of Nebraska-Lincoln. He joined NU's Central Administration office in 1997 as a budget and research analyst. Since then, he has worked alongside the president, chancellors, chief business and academic officers, financial aid directors, and business leads in human resources, facilities management, procurement and IT, and he is the point person on financial matters for staff in the Governor's office and other policymakers. As CFO, Kabourek will serve as treasurer of the National Strategic Research Institute, Nebraska Applied Research Institute, University Technology Development Corp. and University of Nebraska Facilities Corp.
Kabourek is chair of the board for the University of Nebraska Federal Credit Union, an NCAA and Nebraska School Activities Association basketball official, and youth basketball, baseball and football coach. He and his wife, Jamie, have three sons.
Media Contact:
Melissa Lee
Director of Communications,
University of Nebraska