Schroeder to serve as Board of Regents chair for 2016
February 3, 2016
Regent Kent Schroeder of Kearney will serve as chairman of the Board for 2016 after assuming the position at Friday's Board meeting. Schroeder, representing District 6, was elected to the Board in 1998 and served as chairman in 2002 and 2009 and vice chairman in 2001, 2008 and 2015. He succeeds Regent Bob Phares of North Platte as chair.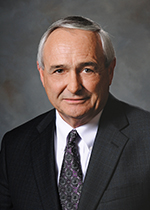 Schroeder, born in Genoa, is an attorney. He earned his bachelor's degree from Iowa State University and J.D. from the University of Nebraska. He has served on the boards of the Good Samaritan Health Systems, the Kearney Chamber of Commerce and Central Community College, and is a past member of the Kearney City Council and Kearney School Board.
Regent Bob Whitehouse of Papillion was elected vice chairman of the Board for 2016. Whitehouse was principal of Bryan Senior High School in Omaha from 1987 to 2000, and has served in a variety of teaching and leadership positions at Bryan Junior High School and Omaha South and Omaha Central high schools. Whitehouse served on the UNK Alumni Association Board and was an educational consultant for Omaha Public Schools from 2000 to 2005. He earned bachelor's and master's degrees from the University of Nebraska.
The Board in December amended its standing rules to allow for the vice chair of the Board to automatically succeed the chair for the following term. The Board will continue to elect a vice chair each year.
Media Contact:
Melissa Lee
Director of Communications,
University of Nebraska