Second Buffett Early Childhood Institute candidate to visit the University of Nebraska
February 9, 2012
The University of Nebraska has announced the second of four finalists for the position of founding executive director of the Buffett Early Childhood Institute.
Susan Landry, founding director of the Children's Learning Institute at the University of Texas-Houston, will visit NU Feb. 14-16. Open forums for faculty, staff and members of the public who are interested in meeting her and learning about her vision for the Buffett Institute are scheduled for:
Feb. 15 at 4 p.m., Van Brunt Visitors Center at the University of Nebraska-Lincoln, 313 N. 14th St.
Feb. 16 at 1:30 p.m. in Room 2014 of the University of Nebraska Medical Center's Michael F. Sorrell Center for Health Science Education.
Each forum will be followed by a reception.
Landry is the Albert and Margaret Alkek Endowed Chair in Early Childhood and Michael and Matthew Knight Professor of Pediatrics. She earned her B.A. from Wagner College, master's degrees from the University of Maryland and University of Texas, and Ph.D. from the University of Houston. She has been affiliated with the University of Texas since 1985 and has served in the Department of Pediatrics in UT's Medical School at Houston for more than 20 years. In addition to her leadership of the Children's Learning Institute, she is director of UT's Center for Improving the Readiness of Children for Learning and Education, and director of the Texas State Center for Early Childhood Development.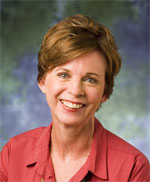 Susan Landry CV
Landry has spent her career translating research into practice to support children and families in achieving productive lives. Her work has focused on providing learning environments that support children facing poverty and other challenges in developing to their full potential. She has received significant grant support for research in this area, and has been widely published in relevant subjects. For example, her work guided the implementation of a model pre-K program used in more than 6,000 classrooms across Texas. Since the implementation of the program, the number of children from low-income backgrounds entering kindergarten with early literacy skills and social competence screening scores at age level has risen dramatically.
Two additional finalists for the Buffett Institute executive director position will visit the University of Nebraska this month and next. The first finalist, Carla Peterson, visited NU Feb. 1-2.
The Buffett Institute, made possible by a generous gift from Omaha philanthropist Susie Buffett that will be more than matched by other public and private funds, will be a university-wide, multidisciplinary research, education, outreach and policy center that will seek to transform the approach to early childhood development and education in Nebraska and nationwide.
The primary focus of the institute will be on the learning and healthy development of children from birth to age 8, with special attention on children who are vulnerable because of poverty, abuse or development, learning or behavioral challenges. The institute will strive to create a new model for how a 21st-century public university can help drive the creation of better systems for understanding child learning and development and delivering education and other services to young children and their families.
Media Contact:
Melissa Lee
Director of Communications,
University of Nebraska