Fourth Buffett Early Childhood Institute candidate to visit the University of Nebraska
March 5, 2012
The University of Nebraska has announced the fourth finalist for the position of founding executive director of the Buffett Early Childhood Institute.
Harolyn Belcher, associate professor in the Department of Pediatrics at The Johns Hopkins School of Medicine and developmental pediatrician in the Department of Neurology and Developmental Medicine at the Kennedy Krieger Institute, will visit NU March 8-9. Open forums for faculty, staff and members of the public who are interested in meeting her and learning more about her vision for the Buffett Institute are scheduled for:
March 8 at 4 p.m., Van Brunt Visitors Center at the University of Nebraska-Lincoln, 313 N. 14th St.
March 9 at 3:30 p.m. in Room 412 of Roskens Hall at the University of Nebraska at Omaha.
Each forum will be followed by a reception.

Each forum will be followed by a reception.

Belcher is a lecturer in the Department of Mental Health at The Johns Hopkins Bloomberg School of Public Health, and holds adjunct faculty appointments at the University of Maryland Eastern Shore, Howard University and Morgan State University. She is the director of research at the Kennedy Krieger Institute's Family Center, a community-based mental health center that provides evidence-based mental health treatment focusing on children with a history of abuse, neglect and exposure to community and/or domestic violence. Belcher is currently leading several grant-funded research projects including a recently funded National Institutes of Health grant to conduct a cost comparison of evidence-based parent interventions for young children with emotional and behavior problems.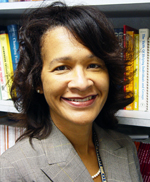 Harolyn Belcher CV

Belcher has collaborated on community-based initiatives to support recruitment and education of African American parents participating in church-based foster care for children with drug exposure and HIV infection in Tampa. While in Florida, Belcher was director of the Developmental Evaluation and Intervention program at the University of South Florida, which provided center- and home-based evaluation and treatment services for infants and young children who were treated in Neonatal Intensive Care Units and whose family incomes were at 250 percent of the poverty line or lower. The program expanded under her leadership and for her efforts, Belcher was given the "Friend of the Young Child" award of Hillsborough County.

Belcher is the final candidate for the Buffett Institute director position to visit the university. The first finalist, Carla Peterson, visited NU Feb. 1-2; the second, Susan Landry, visited Feb. 14-16; and the third, Ruby Takanishi, visited Feb. 27-28.

The university invites feedback on any of the candidates at http://buffettinstitute.nebraska.edu/feedback.

The Buffett Institute, made possible by a generous gift from Omaha philanthropist Susie Buffett that will be more than matched by other public and private funds, will be a university-wide, multidisciplinary research, education, outreach and policy center that will seek to transform the approach to early childhood development and education in Nebraska and nationwide.

The primary focus of the institute will be on the learning and healthy development of children from birth to age 8, with special attention on children who are vulnerable because of poverty, abuse or development, learning or behavioral challenges. The institute will strive to create a new model for how a 21st-century public university can help drive the creation of better systems for understanding child learning and development and delivering education and other services to young children and their families.
Media Contact:
Melissa Lee
Director of Communications,
University of Nebraska