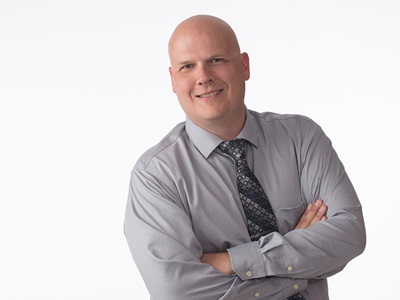 Steve Blum was recently awarded the University of Nebraska-Lincoln's Exceptional Excellence Award. Blum is a senior workstation support associate with Information Technology Services providing support to the faculty and staff of the College of Journalism and Mass Communications.
The Exceptional Excellence Award recognizes a staff member who has exceeded their job expectations and significantly contributed to the success of a faculty member's teaching and/or research.
Blum was nominated by Rick Alloway, associate professor and general manager of the campus radio station, 90.3 KRNU and its associated webstreams. In his nomination, Alloway described how Blum took on additional responsibilities during the summer of 2021 when the college's long-time engineer retired, despite not being familiar with broadcast engineering. While filling in, Blum helped keep the station on the air while learning about the station's hardware, technology and federal regulations as he went.
In addition to Blum's ability to handle multiple priorities and his willingness to pitch in and help out with extra projects when needed, Alloway noted Blum's jovial and good-natured attitude. "I have never seen him come even close to appearing upset or stressed, in spite of the constant barrage of emails, phone calls, texts and people who need his help yelling 'Steve!' down the hall at him," Alloway said. "He is unfailingly responsive to requests by faculty, staff and students."
The Exceptional Excellence Award is coordinated by the UNL Office of the Executive Vice Chancellor. To learn more about the Exceptional Excellence Award, visit https://executivevc.unl.edu/faculty/evaluation-recognition/awards#excellence.