New "Leading Nebraska" podcast highlights UNMC's statewide impact in nursing education
February 19, 2020
The University of Nebraska has released a new episode of its "Leading Nebraska" podcast series, featuring the University of Nebraska Medical Center's statewide reach in preparing the next generation of nurses and nurse educators.
The College of Nursing enrolls 1,100 students across its divisions in Scottsbluff, Kearney, Norfolk, Lincoln and Omaha, making it the largest of UNMC's health colleges. That statewide presence allows the College of Nursing to meet students where they are, educating them close to home and preparing them to serve in the community of their choice.
"When we can provide an opportunity for students to attain their advanced education here, they're going to be more likely to stay here and work here."
That, in turn, positions UNMC to help address the urgent and growing shortage of nurses in the state's workforce – a shortage that is particularly acute in rural areas. According to the Nebraska Center for Nursing, the state is currently short more than 4,000 nurses, and that number is expected to grow. Six Nebraska counties have zero registered nurses, and six more have only one.
UNMC is working to meet the need.
"When we can provide an opportunity for students to attain their advanced education here, they're going to be more likely to stay here and work here," Liane Connelly, assistant dean for the College of Nursing's Northern Division, located in Norfolk, says in the podcast. "And in particular, when we have partnerships with community agencies and clinical partners, then they can see what the work day, work life and home life would be like living in Pender, Columbus, West Point and some of those areas."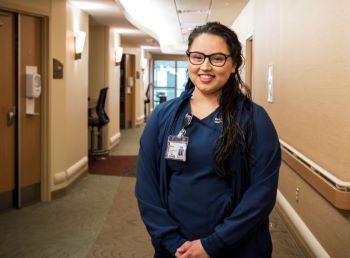 Nora Arellano, a registered nurse at Faith Regional Health Services in Norfolk, went to nursing school at the Northern Division, a 15-minute drive from her home in Madison where she lives with her two children.
The proximity was a plus for Arellano, who could lean on family for support as she juggled classes, clinical rotations and her children. Arellano also was able to complete a summer externship at Faith Regional and get to know the medical staff while she was still in school, helping orient her as she prepared to begin her career.
"The biggest benefit is that I didn't have to pick up my life or my kids' lives and move hours away to go to a nursing program that wasn't close to home," she says in the podcast. "I was able to maintain their lives and maintain my life while still getting a good education."
The NU system's "Leading Nebraska" podcast, launched last fall, shares stories of researchers, students and educators across the four campuses who are growing the state's workforce and quality of life. New episodes of "Leading Nebraska" are released monthly and feature experts from UNL, UNO, UNK and UNMC. Other topics include teacher education, agricultural education, counterterrorism, healthcare, workforce development, cybersecurity and others.
Listeners may follow the "Leading Nebraska" podcast here.
More stories about the University of Nebraska's work and impact are available here.
Media Contact:
Melissa Lee
Director of Communications,
University of Nebraska