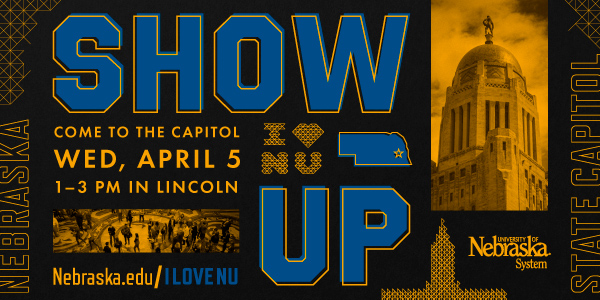 From providing opportunities to pursue professional dreams to conducting world-changing research to providing life-saving health care, we all have stories about how the University of Nebraska System has changed our lives, our businesses, and our communities.
That's why you're invited to join University leadership, students, and countless other advocates in sharing your story about why you love NU during this week's "I Love NU" Week. Whether you share your story of how the university has impacted you on social media with #ILoveNU, post a video or photo of you wearing your favorite campus or "I Love NU" gear from our store, or call or email your state senator, your voice matters in telling the story of your University of Nebraska.
And if you haven't RSVP'd yet for "I Love NU" Day, which kicks off at 1:00 p.m. on Wednesday, April 5th at the State Capitol, don't worry – there's still time. You can learn more about the event on our website and sign up to join us here.
On behalf of the University of Nebraska System, our four campuses and nearly 50,000 students, thank you again for advocating for accessible, affordable higher education in Nebraska. We cannot tell the story of the university's statewide impact without you.
Thank you for believing in the power of education and your University of Nebraska.