The University's most prestigious awards—The President's Excellence Awards—recognize especially meritorious research, teaching, and innovative efforts by individual faculty and academic departments or units.
---
Outstanding Research and Creative Activity (ORCA) Award Recipients:
ORCA recognizes individual faculty members for outstanding research or creative activity of national or international significance.
NICHOLAS STERGIOU, PH.D.
Department of Biomechanics
University of Nebraska at Omaha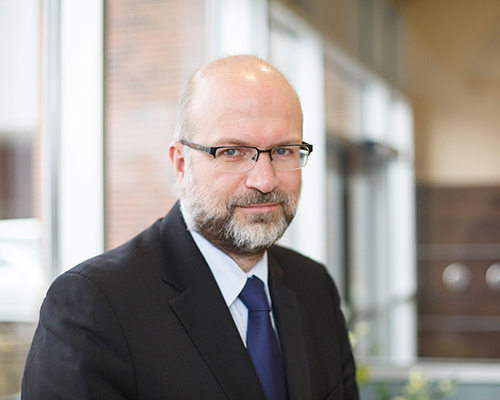 When Stergiou began teaching at UNO in 1996, "biomechanics" wasn't part of the university's lexicon. He has since secured two of the largest research grants in UNO history – National Institutes of Health grants worth more than $10 million each – and a private gift to build the 23,000 square-foot Biomechanics Research Building that opened in 2013. The building, home to the first center in the world dedicated exclusively to research in human movement variability, later underwent a 30,000 square-foot expansion, made possible with another private gift, after Stergiou's programs outgrew the original space. His research has impacted the training techniques of surgeons, as well as the treatment of pathologies like peripheral arterial disease.
Watch Dr. Stergiou's Video

MARGARET JACOBS, PH.D.
Department of History
University of Nebraska–Lincoln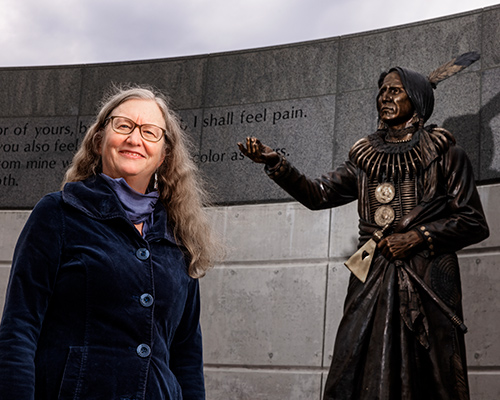 Jacobs studies the history of the American West in comparison with Australia and Canada, focusing on women and gender as well as children and family. For the last 20 years, Jacobs has studied Indigenous child removal. Many of her books and articles concern government policies from 1880 to 1940 that required Indigenous children to be separated from their families and sent to distant boarding schools and other institutions. Her more recent scholarship examines how government authorities in the U.S., Australia and Canada continued to remove Indigenous children after World War II through foster care and adoptive placements in non-Indigenous families. Her current work also examines and promotes reconciliation between Indigenous and non-Indigenous peoples.
Watch Dr. Jacobs' Video
---
Outstanding Teaching and Instructional Creativity Award (OTICA) Recipients:
OTICA recognizes individual faculty members who have demonstrated meritorious and sustained records of excellence and creativity in teaching.
KENNETH KIEWRA, PH.D.
Department of Educational Psychology
University of Nebraska–Lincoln
Kiewra's research pertains to the "SOAR" teaching and learning method he developed and to talent nurturing, particularly the roles parents play. The SOAR method is based on four components – Select, Organize, Associate and Regulate – and strategies that both teachers and students can employ to improve learning outcomes. Kiewra has published more than 100 articles; authored two books for students, one for educators and one for parents; and made more than 500 presentations to educational, corporate and parent groups. He is the former director of UNL's Nebraska Academic Success Center. A colleague has said, "It is difficult to imagine anyone whose work is more widespread or who is more committed to bringing educational psychology to the people than Dr. Kiewra."
Watch Dr. Kiewra's Video

RAMAZAN KILINÇ, PH.D.
Department of Political Science
University of Nebraska at Omaha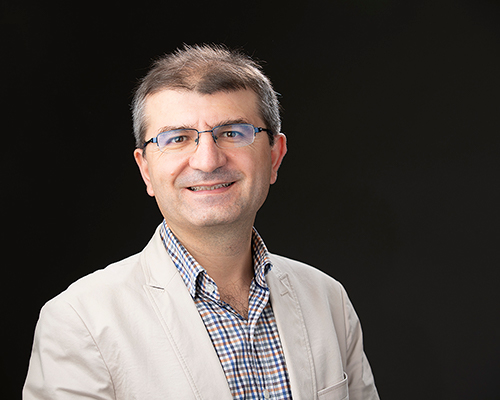 Kılınç teaches courses on comparative politics and international relations of the Middle East. He is a graduate of Bilkent University in Turkey and Arizona State University, and previously taught at Michigan State University. Kılınç's most recent articles appeared in Comparative Politics, Political Science Quarterly, Politics and Religion, Studies in Conflict and Terrorism, and Turkish Studies. He is a past winner of UNO's Excellence in Teaching Award, the UNO Alumni Outstanding Teaching Award, and the American Political Science Association's Weber Paper Award and Sage Paper Award. His research interests are religion and politics, democratization, the Middle East and Turkey. Kılınç has served as a faculty fellow for the College of Arts and Sciences' Peer Mentorship Program and a member of the Faculty Advisory Committee for the UNO Honors College.
Watch Dr. Kılınç's Video
---
Innovation, Development and Engagement Award (IDEA) Recipients:
IDEA recognizes faculty members who have extended their academic expertise beyond the boundaries of the university in ways that have enriched the broader community.
CHRISTINE CUTUCACHE, PH.D.
Department of Biology
University of Nebraska at Omaha
Cutucache is a tumor immunologist-turned-science educator. During her tenure, Cutucache has secured nearly $11 million in extramural funding, published 34 peer-reviewed articles on her research, and been selected as a Fulbright Scholar. Her research lab studies tumor immunology as well as science education. She is interested in student-centered, inquiry-based practices to improve learning outcomes. Cutucache founded a now-statewide program that engages youth in high-quality, out-of-school STEM activities via problem-based learning. The program, a collaboration between the university, community partners and stakeholders, has served 6,000 youth. Cutucache is interested in helping undergraduates on their journey to a degree, including through experiential learning, professional development and coaching, and her work is supported with several core grants.
Watch Dr. Cutucache's Video

LAURENCE RILETT, PH.D.
Department of Civil and Environmental Engineering
University of Nebraska–Lincoln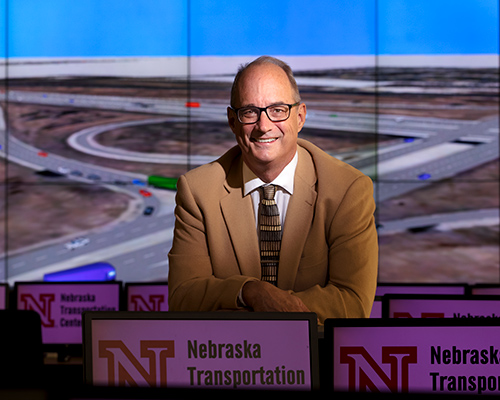 Rilett, known for his research in transportation system analysis, has said his centers' outreach programs are the most gratifying part of his work. He works extensively with K-12 students, many of them from underrepresented backgrounds, to interest them in college and STEM fields. He led the development of "Roads, Rails and Race Cars," an after-school program for middle schoolers that has served more than 12,500 students, including, after a recent expansion, students on the Omaha, Winnebago and Santee Sioux Reservations. He also collaborated with the Nebraska Commission on Indian Affairs on a STEM summer academy for Native American high school students. Rilett also created the Mid-America Transportation Center's Scholars Program, which provides mentorship to undergraduate students from underrepresented backgrounds to help them navigate the graduate school recruitment, admissions and completion process.
Watch Dr. Rilett's Video
---
Inclusive Excellence Collaboration Award (IECA) Recipient:
IECA honors sustained, outstanding contributions in diversity and inclusion between two or more University of Nebraska academic and/or administrative units or campuses that move the university system toward inclusive excellence.
EQUITY, ACCESS AND DIVERSITY ADVISORY
University of Nebraska at Kearney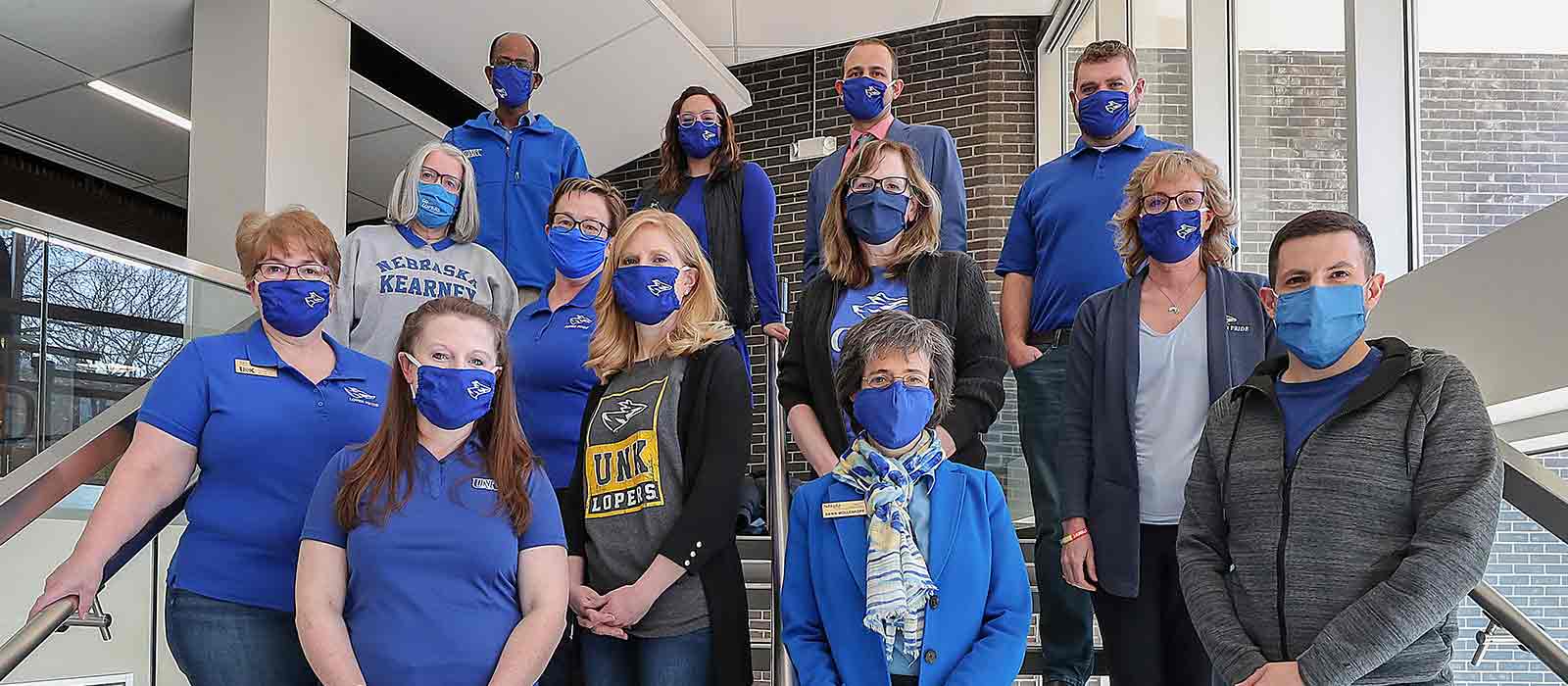 The EAD (Equity Access and Diversity) advisory at the University of Nebraska at Kearney (UNK) was launched by Chancellor Kristensen in 2015-16 as an advisory to help UNK (and therefore the NU system, by association) meet its goals to comprehensively address issues of equity, access and diversity through the development of D&I initiatives, including those that support compliance (e.g., AA/EO/ADA, Title IX, embracing diversity).
EAD is made up of about 33 faculty, staff and students who represent each Academic College and non-academic Division at UNK. The specific charge of EAD is to nurture an atmosphere of inclusion for faculty, staff, students, and visitors on the UNK campus. Since its launch in 2015-16, this diverse group of students, faculty and staff has worked tirelessly to help UNK make strides toward enhancing an inclusive climate. It began with developing and disseminating a campus-wide diversity climate survey in 2017. Subsequently, EAD has offered a myriad of educational programming aimed at addressing inclusivity. These efforts are developed with an understanding that gaps in access, inclusion, and diversity can, in part, be addressed by enhancing a welcoming campus climate where dialogue and mutual understanding and respect are valued. A major drive behind these programs has been the promotion of belonging among our diverse students in order to improve retention.
From a fledgling beginning in 2015-16, EAD has become a crucial part of UNK's efforts towards achieving inclusive excellence.
Watch the EAD Advisory's Video
---
University-wide Departmental Teaching Award (UDTA) Recipient:
UDTA recognizes departments or units within the university that have made unique and significant contributions to NU's teaching efforts and that have demonstrated outstanding commitment to the education of students at the undergraduate, graduate or professional levels.
DEPARTMENT OF MANAGEMENT
University of Nebraska at Omaha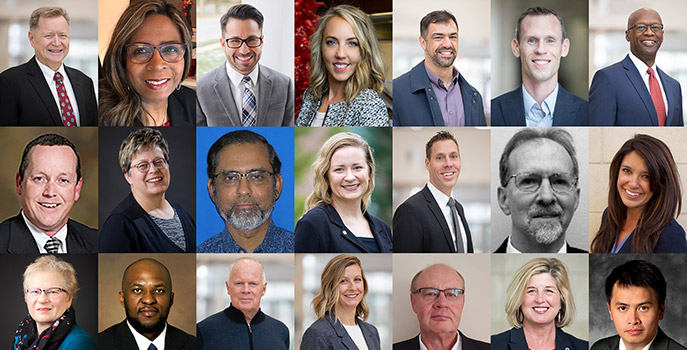 Chaired by Associate Professor John Erickson and housed in the College of Business Administration under the leadership of Dean Michelle Trawick, the Department of Management teaches undergraduate, graduate and executive education courses in organization management, human resources management and supply chain management. As of the fall semester, more than 500 undergraduate students were pursuing a concentration in one of those areas. The department's faculty also play a key role in teaching core courses required for all UNO business students.
The department's achievements include:
Faculty and instructors in the department contribute to the "Capstone Cup," a semester-long competition for UNO business students that places them in the role of a consulting firm and asks them to develop recommendations for complex business problems.
Faculty collaborate within and beyond their department to expand opportunities for students and meet workforce needs. For example, recognizing the high demand for students with supply chain management expertise, the department has worked with UNO's Division of Continuing Studies and College of Public Affairs and Community Service to develop logistics concentrations.
Management faculty are widely published and are successful in receiving grant funding. For example, faculty have earned grants to support the USSTRATCOM Strategic Leadership Fellows Program, which trains civilian leaders at USSTRATCOM.
Faculty are highly engaged in the College of Business Administration's outreach efforts, contributing to non-credit courses and leadership development training for companies like Union Pacific and HDR. Faculty also provide non-credit education to clients of the UNO-based Nebraska Business Development Center, which provides services to businesses and entrepreneurs across the state.
Management faculty member Dr. Gina Ligon leads the National Counterterrorism, Innovation, Technology and Education (NCITE) Center, a U.S. Department of Homeland Security center headquartered at UNO that was established in 2020 with a $36 million, 10-year federal grant. The center works to understand, prevent and counteract terrorist violence.
Watch the Department of Management's Video