UNO Department of Foreign Languages and Literature wins university wide teaching award
April 5, 2016
University of Nebraska President Hank Bounds announced today that the Department of Foreign Languages and Literature at the University of Nebraska at Omaha has been selected to receive the 2016 University-wide Departmental Teaching Award (UDTA).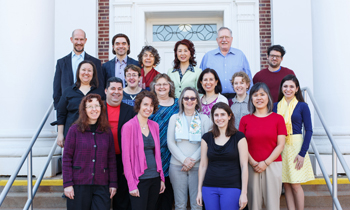 The UDTA is NU's most prestigious honor for departmental excellence in teaching. Since 1993, the UDTA has recognized departments or units within the university that have made unique and significant contributions to NU's teaching efforts and that have demonstrated outstanding commitment to education of students at the undergraduate, graduate or professional levels.

Honored departments, which are selected by a committee of faculty members from across the university, receive $25,000 to be used in a manner the department sees fit, such as for travel to a conference, instructional equipment or improvements to a classroom or student resource.

"The UNO Department of Foreign Languages and Literature is a model for teaching excellence at the University of Nebraska," Bounds said. "Its faculty embody the university's most important mission of service to students and the state. The department is known for its student-centered approach, commitment to interdisciplinary collaboration and engagement with the Omaha community. In today's global economy, in which our students must gain an understanding of cultures and languages different from their own, the work of UNO's Department of Foreign Languages and Literature is as important as it has ever been. I'm proud of how the department and its faculty are advancing the strategic goals of UNO and the entire university."

Chaired by Dr. Melanie Bloom, the Department of Foreign Languages and Literature is home to 13 faculty members and one graduate teaching assistant and serves hundreds of students each semester from a range of academic disciplines. The department's mission is to provide UNO students with the linguistic and cultural understanding necessary for a global education. Priorities include internationalization of the UNO curriculum, student-focused instruction and serve to the Omaha community. The department has built a record of success in these and other areas. For example:
By adding faculty, developing new programs to meet student needs, and focusing on UNO's strategic goals, the department has successfully grown enrollment in recent years. The department has 124 declared undergraduate majors now compared to 86 in 2014.


In recognition of the importance of providing all students with linguistic and cultural competency, the department is inherently interdisciplinary. Its coursework supports a range of other UNO colleges and departments, including those in education, business, English, arts and sciences, history, Latino/a and Latin American studies, women's and gender studies and others.


The department's faculty are engaged well beyond the classroom. They hold extended advising hours for students, lend their expertise to professional organizations, and participate in a number of community and service-learning projects, like workshops and other events that expand cultural knowledge in the community.


Faculty are successfully attracting grant funding to support their work. In the last five years, the department's faculty have received 55 grants associated with teaching and learning at UNO, allowing them to incorporate new technologies in the classroom, enhance their curricula, change their teaching methodologies or course delivery, send students abroad and perform community outreach.


Faculty are well-represented at relevant conferences across the country and beyond, having delivered nearly 70 presentations in the last five years alone. Faculty are also widely published on topics related to teaching innovation.


The department is focused on continued innovation to meet the needs of future students. New interdisciplinary courses will strengthen relationships across campus and beyond; for example, new courses in the language, literature and culture of West Africa will foster greater collaboration with UNO's black studies faculty and will align with Omaha's growing West African population. And plans to make the graduate curriculum available completely online will expand access for students in rural Nebraska and beyond and will enhance the department's reach and reputation. New internship opportunities and study abroad programs in Germany, Costa Rica and Nicaragua also will further enrich students' educational experience, better preparing them for success in the global workforce.
The Department of Foreign Languages and Literature was honored today at an Omaha luncheon hosted by President Bounds.
Media Contact:
Melissa Lee
Director of Communications,
University of Nebraska