UNO graduating senior wins university's top honor for student entrepreneurship
May 8, 2015
University of Nebraska President Hank Bounds announced today that a graduating senior at the University of Nebraska at Omaha is the 2015 winner of NU's top award honoring extraordinary efforts in student entrepreneurship. Rachel Ostrander, who is graduating from UNO with a bachelor's degree in IT innovation, has been selected to receive the Peter Kiewit Student Entrepreneurial Award for her work in creating an agricultural software company.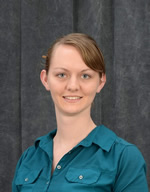 "Students at the University of Nebraska are full of good ideas for new products and businesses, and we have a responsibility to nurture that entrepreneurial spirit and help these young people become successful," Bounds said. "The Peter Kiewit award is a great opportunity to highlight the best of the best in student entrepreneurship and Rachel Ostrander is well deserving of this award. I can't wait to see what she accomplishes in the future and where her UNO degree will take her."
The Peter Kiewit award recognizes University of Nebraska students who have directed their energies, ideas and talents toward community and business improvements with the creative and innovative use of information technology. The award is accompanied by a $2,500 prize.
Ostrander is founder, CEO and programmer of MooManager, an agricultural software company providing ranch management software to cattle ranchers. In short, MooManager saves ranchers hours of labor each day through automated recordkeeping.
Ostrander was a freshman working on her family's farm in Rushville when the idea for MooManager came to her. "I realized that most ranching processes could be expedited or modified to make them more efficient," she said.
As a sophomore, she presented the idea as a class project, received an investment offer from a company, and realized her fledgling idea was worth pursuing. Throughout MooManager's development, Ostrander drew on her experiences growing up on a ranch and combined them with extensive feedback from Nebraska's ranchers.
"I pointed out their current processes," Ostrander said of talks with ranchers. "I said, 'Wouldn't it be nice if you could look back and see how you bred that cow last year? Wouldn't it be nice if you could predict how much grass you have left in your pasture?'
"'I could answer that for you with this software,'" she told them.
It was enough to gain their support. She then tailored the software to meet current industry needs. The application targets ranchers who likely use artificial insemination, and enables more accurate record-keeping, provides ancestry tracking, inventory management, employee tasking, pasture management, live-time cattle work management, and automated data import.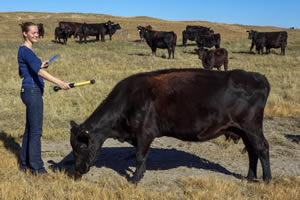 As a ranch management software, MooManager is unique in that it is usable with or without internet access. This is especially important for ranchers who rarely have service in their pastures. Any records updated in the pasture are synced to the cloud when connected to the internet. The product, which is available for purchase as an application, is built for any mobile platform, including iOS, Android, or Windows desktop.
For her business idea, Ostrander won first place at the 2013 Maverick Business Plan, first place at the BigIdea! Pitch competition, and second place at the Nation CEO Pitch contest. Despite a number of interested investors, she has been developing MooManager independently throughout her academic career.
Most of the software and business development is relatable to her classes, Ostrander said, and she was able to apply it to her course work every semester. She credits having good advisors through the Scott Technology Center and a solid support system.
"Some of my professors have been very encouraging and have helped me get connections and network," she said.
Ostrander plans to pursue a career with Complete Nutrition while also continuing development on MooManager. She said she plans to use the award money to support the software and pay for hardware and the cost of labor, and perhaps to hire additional employees.
Ostrander will be honored at a luncheon hosted by Bounds this summer.
Media Contact:
Melissa Lee
Director of Communications,
University of Nebraska