2021-2022 Collaboration Initiative
The primary purpose of the Collaboration Initiative is to enhance competitiveness of University of Nebraska faculty for extramural funding by fully leveraging intellectual capacity and research resources across the campuses. The 2021-2022 funding opportunity is designed to facilitate and strengthen research collaborations among NU faculty.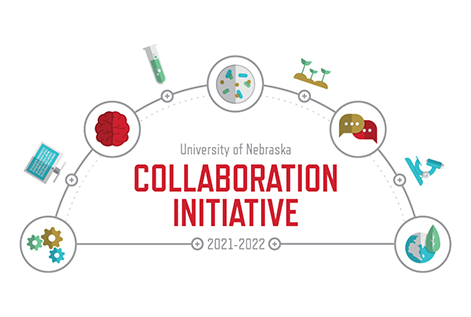 This year's faculty-grant Request for Applications (RFA) will solicit proposals from multi-campus multidisciplinary teams that help position them to compete for extramural funding. Researchable topics will not be administratively predefined, but applications must be designed to strengthen the team's future funding proposal. All disciplines are encouraged to apply; projects must build towards a competitive extramural funding application.
2021-2022 Collaboration Initiative Funding Opportunities
The 2021-2022 Collaboration Initiative offers three different funding opportunities for University of Nebraska researchers. Read about them on the right.
View the 2021-2022 RFA
Team Formation and Publication Grants
One-year grants, of up to $7,500 each, to build new research collaborations across University of Nebraska campuses.
Preliminary Data and Application Preparation Grants
One-year grants, of up to $40,000 each, to strengthen research collaborations and generate preliminary data critical to extramural research proposal submission.
Funding for a special sub-category of these data grants, designed to support the national security mission of the National Strategic Research Institute (NSRI) at the University of Nebraska, will also be available. See nsri.nebraska.edu/IRAD for more information. All applicants in this category will be considered for regular and NSRI funding.
Team Seed Grants
Two-year grants, of up to $150,000 each, to strengthen existing and build new research collaborations among faculty with a track record of extramural research funding.
Key Info: Collaboration Initiative
COOKIE USAGE:
The University of Nebraska uses cookies to give you the best online experience. By clicking "I Agree" and/or continuing to use this website without adjusting your browser settings, you accept the use of cookies.